Wall-to-Wall Spirit Games
Wall-to-Wall Spirit games took place last Friday in different spots around the school. Teachers represented grade levels in a competition for spirit points. The freshman class won the spirit belt this semester, and the sophomores came in second.  
During fifth period, The Oreo cookie slide took place at 12:36 outside of the auditorium. The teachers were tasked with sliding a cookie down they're face to their mouths without using their hands. It was a lot of fun for teachers and students.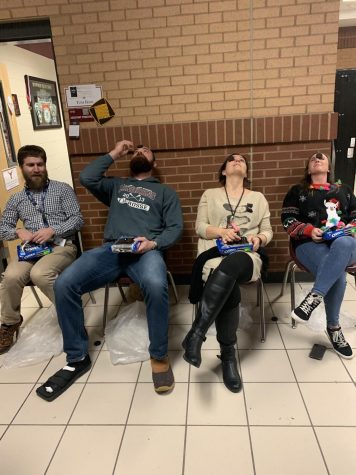 During sixth period's wall-to-wall hula hoop competition, a teacher representative for each grade had to compete to see how long they could hula the hoop! Coach Hill came in first place representing the seniors, and Mastrosngelo came in second representing the freshman. The juniors came in third, represented by Ms. Lewandowski, and the sophomores were last, represented by Mr. Langley.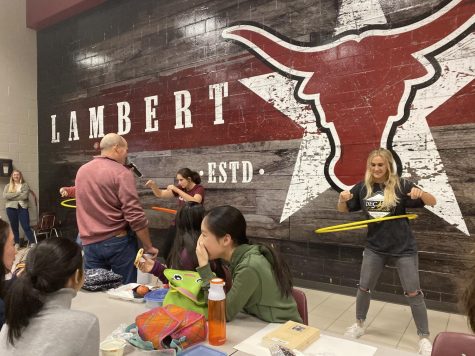 Trivia was a hit between the 6th period students and teachers!
Ranging from questions referencing baseball to what country is the happiest, members of the student council tested all areas of expertise.
Ms. Bucherati (senior) and Mr. Carlson (sophomore) tied for first place. Mr. McCloy (freshman) received third place and Ms. Suber (Junior) was in last place.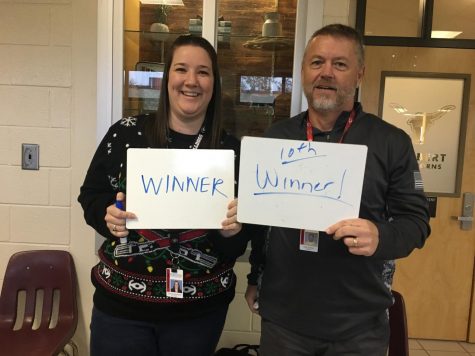 The Marshmallow-Spaghetti Tower event tested the teachers' engineering skills as the race to see who could build the tallest tower. Much drama ensued as what would initially be the leading tower slowly crumble and fall while the others would hastily stick as many spaghetti sticks into marshmallows as they could. This game had the sophomores coming in first, followed by the freshmen, seniors, and juniors.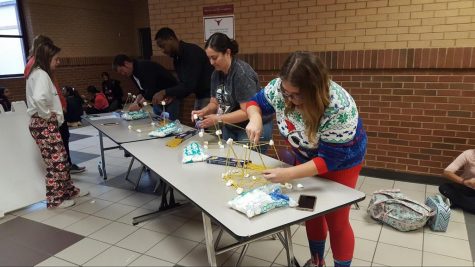 The Jigsaw Puzzle event saw the teachers attempt a simple jigsaw puzzle, but they couldn't see the picture. Judging only by shape, the confusing hilarity that ensued resulted in a sophomore victory, courtesy of Mr. Jakaitis. Second place had the freshmen, third place had seniors, and fourth place had juniors.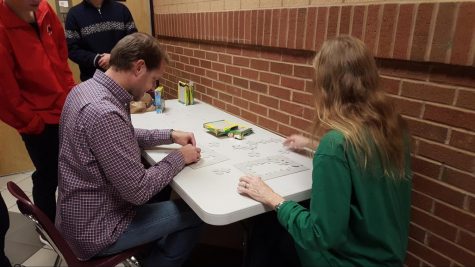 The 5th period bowling game took place near the front office. The rules were simple: whoever scored the most points wins. Fisher won the competition for the freshmen with a collective score of 25 points. The sophomores, represented by Baldwin, scored 23 points; the juniors, represented by Candela, scored 21 points; and the seniors, represented by Saxton, scored 20 points.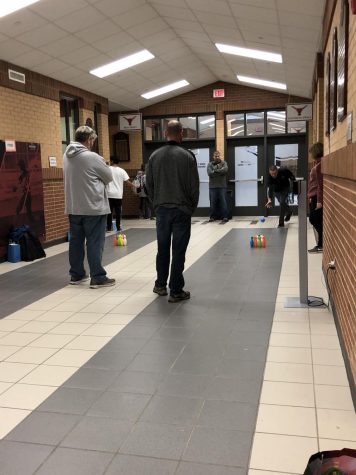 During the 5th period cup stacking wacky game, the participants were Ms. Yi representing seniors, Mr. Labocetta representing juniors, Mrs. Noles representing sophomores, and Ms. Watkins representing freshman. While the other teachers gave it their best, Ms. Yi struck first place for the seniors!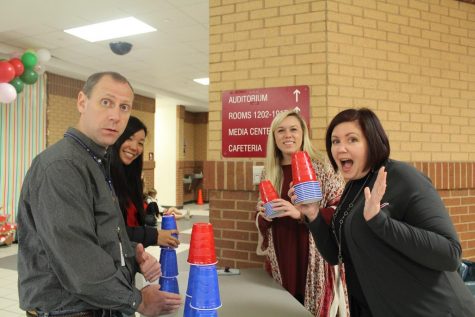 Leave a Comment
Donate to The Lambert Post
Your donation will help support The Lambert Post, Lambert High Schools student-run newspaper! Your contribution will allow us to purchase equipment and cover website hosting costs.