Winning is a hobby for Lambert girls golf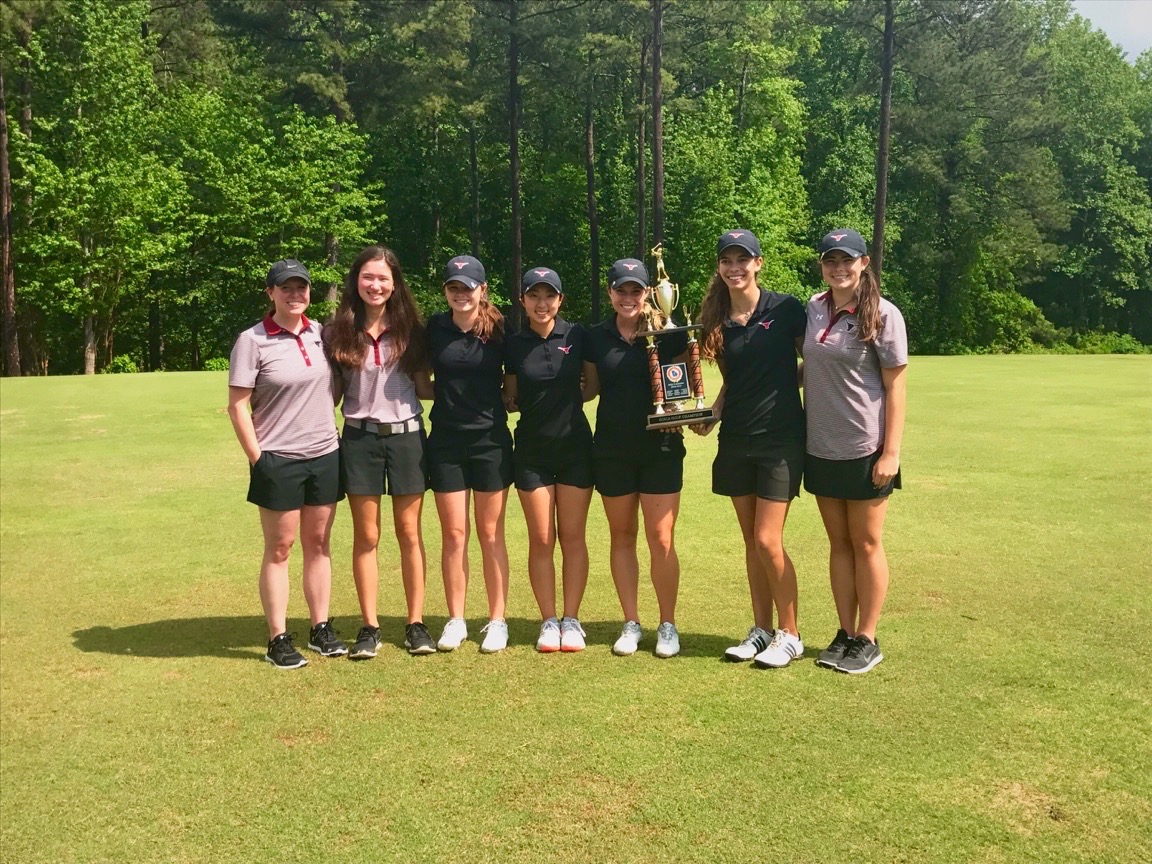 Rain, wind, and wet conditions typically halt play at a golf tournament, but it didn't stop the Lambert girls golf team from bringing home yet another area title. This one makes it 8 straight. When asked how the girls golf program has been so unstoppable, junior Kate Owens attributes it all to team camaraderie. "We all get along so well, and it makes the season super enjoyable every year. We also have so many talented players districted to this school, so in practice even amongst our own team we can push each other to be better."
The team is comprised of 6 members, half of them being seniors. They've been able to take advantage of the unusually warm weather in February and March, and bring home several wins in the tri-match events against local competition. However, there was lots of pressure to keep the streak going at the area tournament.
The tournament was hosted by Woodstock high school at the Bridgemill Athletic Club. The weather throughout the week was touch and go, but the Lady Horns persisted through the pop-up rain showers and maintained steady through the course. There were a couple of key moments in the tournament for the Lady Horns. Senior Christine McDonnell made an EAGLE on the final hole of play, which helped her win low medalist honors for the tournament by 1 stroke (72). It was an impressive tee-shot as she almost drove the green, had a great chip from off green, and a simple putt in for the Eagle. The team also got strong play from senior Loren Kim who was the #3 score for the day.
First year coach Katie Rosser approached the tournament as she does all the other tournaments they've entered this year, which was to just win the day and play the best they can for that day. This philosophy has seemed to work because they've won all four team tournaments this season.
Next up for Lambert is the state tournament on May 22-23 at Chateau Elan in Braselton, which the Lady Horns will face some strong individual players in the classification (Area 3-7A). The different format this year may also pose a challenge that will require them to be mentally tough on Day 1, to put them in a good position going into Day 2.
Coach Rosser will have the girls continue playing together, but also spend time individually on areas of their game they want to fine-tune. "I want to make sure our girls are finishing the academic semester strong and keeping themselves healthy for the big event," says Rosser. "I have enjoyed getting to be around these girls and watching them genuinely enjoy being around each other. The biggest highlight was the first ever Senior Day to honor our girls. I felt like it was important to say thank you to our 3 for their role in our golf program."
And the best way to say thank you? A state trophy would be just fine.
Check out their blog here: http://lambertwgolf.blogspot.com/2017/