ATL's 13 Shuler Award Nominations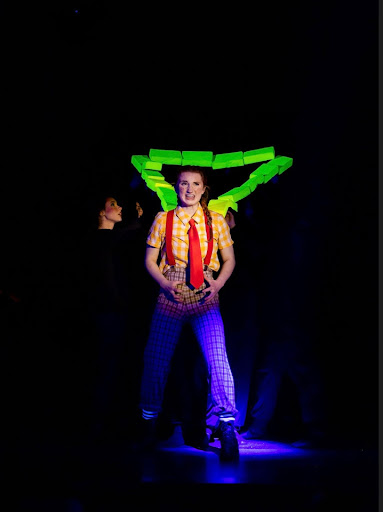 The Acting Troupe of Lambert (ATL) put on a fantastic double-casted show, fan-favorite and Broadway Musical, "Spongebob SquarePants." After months of late-night rehearsals to prepare for seven official performances, ATL received 13 Shuler-Hensley nominations and recognitions, which is the most that they've received for any show. 
The Shuler Awards is a ceremony modeled after the Tony Awards that celebrate excellence among high school theatre students in Georgia. On March 25th, Lambert students gathered not only to watch the nominations and honorable mentions be announced but also to celebrate the production and their hard work as a whole. 
"We were celebrating before the Shuler awards were even announced because we were just kinda celebrating the show," Senior Maddie Ross said.
ATL will be moving on to perform at the Shuler Awards next week on April 21st at the Cobb Energy Performing Arts Center. Maddie Ross played the lead role, Spongebob, and was nominated for best leading actress. After she received her nomination, she went through a process to be interviewed and audition with a song from the play. At the Shuler Awards, she and other best leading actress nominees will sing a medley of songs from their shows before the winner is announced.
Since Maddie joined ATL her freshman year, she has played lead roles for six other shows. Although playing the lead role for any show carries pressure and commitment, no other role was of the same caliber as her lead in Spongebob. 
In past years, ATL has stuck to more classic musicals like "Fiddler on the Roof," "Newsies" and "She Loves Me." Seeking a change of scenery, ATL took a leap of faith and decided to produce "Spongebob SquarePants the Musical." Spongebob was a double-casted show, meaning there were alternating casts for each date and time. It consisted of the Barnacle Boy cast, which was led by Brynn Hall as Spongebob and the Mermaid Man cast, starring Maddie Ross.
"I think it makes it more fun when we do a double cast because Brynn and I can kinda bounce off ideas and I get to see her do the role every other night," Ross said. 
The play sets itself apart from other shows performed by ATL with upbeat numbers accompanied by hip-hop songs written by popular artists. Ross described most music rehearsals for other shows as being tedious but saw rehearsals for Spongebob as fun and easy to learn. Especially because Spongebob is a well-known and beloved show, it paid off to see how excited their performances were for kids in the audience.
"Honestly my favorite show has been Spongebob because it didn't feel like a show, it felt like just having fun on stage and telling a cute story," Ross said. 
The most challenging aspect of Ross' character was that her role was originally written for a man, so she had to work around modifying the songs to fit her voice. 
Everyone was so honored to be a part of the show, which made their reactions to their nominations and recognitions more intense. She and other officers prepared a party with refreshments and a cake during lunch to watch the award nominations. Ross described everyone as rushing on adrenaline and even mentioned herself tripping over the stage when she found out she was nominated for best leading actress. 
Ross plans on continuing her career in musical theatre and will be attending Miami University in Ohio starting in the Fall to major in musical education and minor in musical theatre. 
As for ATL, they are in tech for the Beauty and the Beast musical and will be performing Into the Woods this year as well. We are excited to see where Maddie's passion and talent in musical theatre take her, and we are so proud of ATL as they attend the Shuler Awards this Thursday! 
The nominations and honorable mentions are as listed:
Best Overall Production

Best Direction – Carly Ann Lovell

Best Choreography – Carly Ann Lovell, Natalie German, Kennedy Norman and Kate Ritchie

Best Leading Actress – Maddie Ross

Best Technical Execution – Carly Ann Lovell, Thomas Schnitzer, and Megan Hunter

Best Ensemble

Best Costumes – Julianne Lopez

Best Lighting Design – Thomas Schnitzer

Best Featured performer – Nate Benson

Best Sound – Craig Lovell and Hailey Walker

Best Leading Actor (Honorable Mention) – Mike Whelan

Best Music Direction (Honorable Mention) – Ryan Wason

Best Supporting Performer (Honorable Mention) – Spencer Dow and Carly Candebat
Leave a Comment
Donate to The Lambert Post
Your donation will help support The Lambert Post, Lambert High Schools student-run newspaper! Your contribution will allow us to purchase equipment and cover website hosting costs.