Behind-the-Scenes of SGA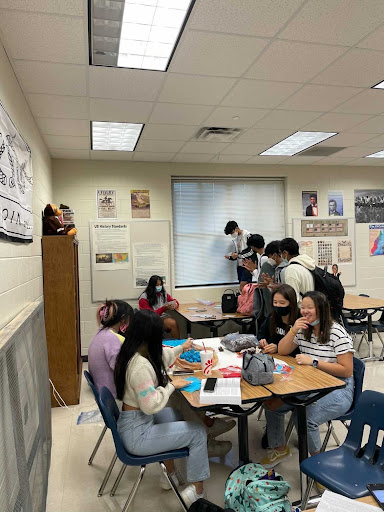 Lambert's Student Government Association (SGA) is a major new edition this year. It is now efficiently comprised of Compass Ambassadors, Student Council and Class Cabinet. SGA is behind-the-scenes of all the events that make Lambert so good: the dances, pep rallies, and all things school spirit! At the root of Lambert's unique school spirit are the students and teachers that make it all happen. SGA is a club that allows students to have a tangible impact on their school functions and provides opportunities for students' natural talents to rise to the surface.
Mrs. Wilson has been involved with student council since 2010, a year after Lambert's establishment, which has allowed her to see the school's culture evolve throughout the years. Her role is critical as she is mainly involved with logistics and delegating responsibilities to students.
"The focus is to put responsibility on the students, and I'm the facilitator," Wilson said.
As the SGA is mainly a student-lead organization, student officers like Yuliya Busumatrava get to envision plans and execute them. Busumatrava has been involved with her schools' student councils since 7th grade and found that she has always strived for leadership positions, so that she can help others and see things become better. 
Something special about being involved with SGA is that students have opportunities within their reach to make decisions that hold weight. It seeks out students who have natural leadership qualities and puts them in positions that facilitate growth of those inherent talents. Busumatrava and Wilson both emphasized that their favorite part of being involved is that they get to see students put effort into ideas that actually come to life. 
"Unlike other clubs, we take an idea, and we take it even further," Busumatrava said. "So we make it happen quick."
Being involved with SGA spans beyond planning and executing visions; it extends to fostering a mindset of leadership and encouraging others to reach their full potential. Student council is comprised of students who lead in every position, whether it's answering questions in class, laughing at the teacher's joke or setting a good example for their peers. One of the best things about this club is that it is made up of students of varying backgrounds and unites them in their passion for leading and seeking to improve their community.
"You have to have a passion for being someone that others look to," Mrs. Wilson said. "You have to be comfortable with being a role model." 
An important part of being a leader is also being a teammate. As members of the SGA, students have to consider not only what's important to them, but also what's best for the whole. In order to succeed in student council, students need to have open minds that are invested in the interests of their school and community. 
"To become a leader, you always have to be a team mate because you're always a part of something bigger," Busumatrava remarked. 
Every year brings new challenges and changes. This year, Lambert is trying to find the balance of keeping traditions, while still adapting to and accommodating these adjustments. Events like Lalo Fest are vital to Lambert's culture because they bring students together regardless of their differences. SGA takes the lead on maintaining tradition, while also incorporating new additions to keep things fresh and exciting.
The club's involvement is teaching students important life skills on how to lead and serve their community. The organization is always changing and growing to enhance Lambert's experience for students and teachers. This year is no exception – it will be full of developments and exciting changes.
Leave a Comment
Donate to The Lambert Post
Your donation will help support The Lambert Post, Lambert High Schools student-run newspaper! Your contribution will allow us to purchase equipment and cover website hosting costs.