Blessings In a Backpack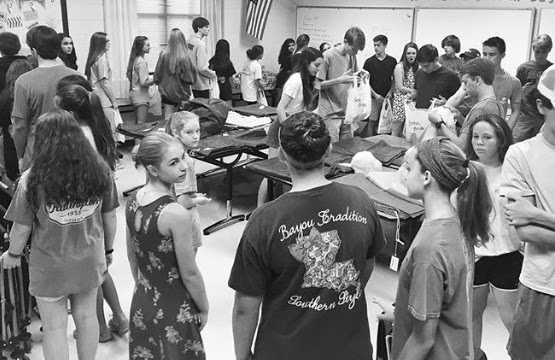 Blessings In a Backpack is a non-profit organization that ensures that kids all around America who depend on the Reduced Meal Program don't have to worry about where they will find food on the weekends. The student-led club was introduced to Lambert in 2013 and Mrs. Adams, a math teacher here at Lambert, has been sponsoring the club since the beginning. In 2013, they started out feeding fifty students in our county. Today, Lambert Blessings In a Backpack feeds 344 kids in Forsyth every weekend. 
Blessings In a Backpack isn't like any other club; it's a huge commitment for its leaders. Unlike other clubs where the objective is for students to attend only to receive credits or for recreational purposes, Blessings In a Backpack is meeting a need. 
Being student-led, there is a lot of room for error. Club-sponsor, Mrs. Adams, has been pleasantly surprised to watch participants take charge and show up every Friday morning. She talked about how a lot of students tend to have ulterior motives when starting clubs such as looking good for colleges. A student, Nick Futrell, told Mrs. Adams about his idea to bring BIB to Lambert and asked for her sponsorship. She asked him to write an in-depth proposal, as she did for every other student who asked her the same question. She said most students never came back, but Futrell came back with a detailed proposal, paving the way for high expectations of future student leaders.
She explained, "We've had excellent student leadership… Things didn't fall through, [the kids] didn't get fed one week and ignored the next." 
When COVID-19 hit in March, the leaders were no exception. Even when the world was shut down in a state of widespread panic, Mrs. Adams and the Lambert staff were working hard to make sure these 344 kids didn't have to go hungry on the weekends. All hands were on deck and even bus drivers and cafeteria workers were lending a helping hand.
Mrs. Adams explained how they got through it and said, "We would give The Place money, the amount of money it would have cost us to do it, and The Place was working with our county, and when the people would come to pick up their free and reduced lunches, they got their weekend bags."
Another challenge the club faced was the matter of starting back up again this year. Because of restrictions, clubs could only allow thirty people, but Lambert administration is planning to raise that number to fifty due to no recent spikes in COVID cases after fall break. Even with this limit, the club has not suffered from a lack of help this year. Students were eager to get the club up and running again for this school year. Mrs. Adams admired how students weren't thinking about what was in it for them, but that they knew this club was something bigger than themselves. 
She explained, "When COVID started and we weren't allowed to start yet, [the leaders] were in my room constantly [asking], 'When can we start?, we want to get the food to the kids', it wasn't about them being president." 
With great responsibility comes a lot of satisfaction. Blessings In a Backpack enforces a sense of community that encourages students to step up and take leadership. This club is something tangible and accessible to every student at the school. People love to feel like they're a part of something bigger than themselves, and this feeling is something that the club has provided to so many students.
Mrs. Adams went on to say, "I certainly love knowing we're helping all the kids, but what I have enjoyed most is watching students as they start to get involved [and] become leaders. And they're not always the natural leaders, but they become pretty strong leaders because it comes with so much responsibility … They have quiet confidence … I love to watch the humble servant leader come out."
The process of getting the food from the grocery store and to the backpacks of the kids starts with buying $1200 of food from grocery stores every week. The food is then stored at someone's house until a 'packing party' on Wednesday nights where volunteers go to a designated area to count and make sure that there is 344 of each food item. On Friday mornings, officers come in early to reorganize the room for the meeting to begin. Students walk around with a grocery bag and put seven different food items in each bag, give the bag to the students who tie the bags, and put them into big laundry bags. Once the meeting is over, drivers take the bags full of food and deliver them to the schools and place the grocery bags into backpacks for the weekend.
In sight of being a non-profit organization, Blessings In a Backpack heavily depends on its community. Some ways to help include attending meetings at 7:45 on Friday mornings, volunteering to have food drives and donating food, sponsoring a child for $100 a year, attending packing parties on Wednesday nights, and signing up to drive the routes to get the food into the hands of the kids.
In today's climate, help is needed by anyone and everyone. Blessings In a Backpack is more than just a club; it's changing lives. The children who benefit from the club exhibit improved behavior, find it easier to concentrate in class, feel supported by their community, and feel as though they are helping their family. In a world full of unknowns, be a helping hand.
Leave a Comment
Donate to The Lambert Post
Your donation will help support The Lambert Post, Lambert High Schools student-run newspaper! Your contribution will allow us to purchase equipment and cover website hosting costs.