Challenging, Yet Caring: Lambert's Mrs. Yi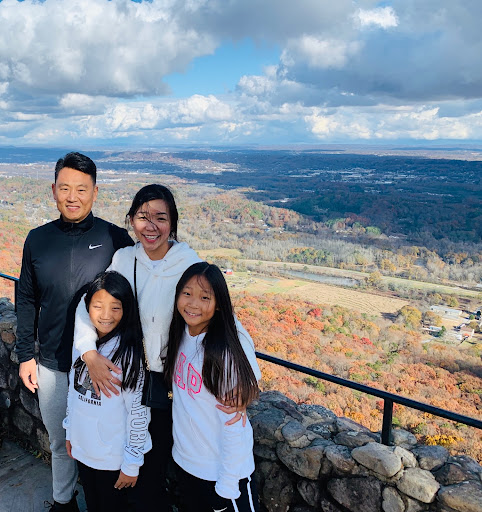 Mrs. Yi is an AP Human Geography and AP Psychology teacher at Lambert and sponsors the club, Students Against Destructive Decisions. Beyond her reputation for preparing students for AP exams and college, she is a caring teacher who is always seeking to make her classroom a more comfortable environment for her students. Mrs.Yi is in her 22nd year of teaching and has learned a lot through her years of experience. 
Since middle school, Mrs. Yi knew that she wanted to be a teacher. When she moved from Korea in first grade, she grew accustomed to careless teachers who would set her aside with coloring pages due to the language barrier. Her fourth-grade teacher, Mrs. Brown, broke the streak. 
"She wanted to teach me English and it made me realize that teachers can really make an impact," Mrs. Yi said. "I wanted to do something that can make a difference; I wanna be like Mrs. Brown."
After her experience with such an impactful teacher, she realized she wanted to teach. She began to observe her teachers in hopes to discern between habits that were conducive to learning and habits to avoid. Her observations led her up to high school when she realized she wanted to teach Social Studies classes because her history teacher was her only teacher who would teach and tell stories rather than assigning busywork. When she got to college, she attended the University of Georgia and majored in education, so that she could get a degree in Broad Social Sciences.
Mrs. Yi's teaching style is organized and just the right amount of challenging for her students. As an AP teacher, her main objective is to prepare her students for the AP exams and for college. As a part of her goals for her students, she hopes to teach them a work ethic and time management skills.
"I never thought I was hard, but I know I challenged my students," Mrs. Yi said. 
Beyond her objective to prepare students for academic success, she is keen on forming bonds with students and motivating them to enjoy learning.
"I hope I make kids feel successful and that they want to continue learning," Mrs. Yi said. 
It wasn't until her experience with student-teaching when she learned that she wanted to teach at the high school level. Her first couple teaching straight out of college, she taught middle school classes, switched to high school, tried teaching middle school again, and has been teaching high school classes for the past many years and plans to stay at this level. Although she enjoys the independence and maturity that high school students possess, she admits that she misses teaching younger grades at times. 
"Even though they were so emotional, they're the ones who try to find me on Instagram," Mrs. Yi said when speaking about the seventh graders she used to teach.
The most rewarding part of Mrs. Yi's career is when students reach out to her and tell her how much they learned from her.
She enjoys teaching AP Human Geography to freshmen because they're still at the age where she can bond with them, whereas it's harder to connect to older students who are focused on simply getting the work done and leaving.
Yi is taking the new generational changes all in stride as she is making efforts to adapt. Over lockdown in 2020, she got certified to teach AP Psychology and is currently in her second year of teaching it in addition to also teaching AP Human Geography. Although it can be challenging at times to learn and teach the curriculum for two AP classes, she appreciates the engaging change in her daily routine, rather than teaching the same class all day. The next goal that she is actively working towards is to get endorsed to teach online classes as that is where the tide seems to be turning for education.
As for Mrs. Yi's personal goals, she is very content with her position on the Lambert staff. She is grateful for the diversity and supportive faculty that Lambert has provided to her.
"I love being a part of the Longhorn family," Mrs. Yi said with a smile. "I see myself staying here until I retire."
Lambert is thankful to have a challenging, yet caring, teacher like Mrs. Yi. 
Leave a Comment
Donate to The Lambert Post
Your donation will support the student journalists of Lambert High School. Your contribution will allow us to purchase equipment and cover our annual website hosting costs.