Donating a Few Quarters for a Support Corner: A Story About Two Students Spreading Mental Health Awareness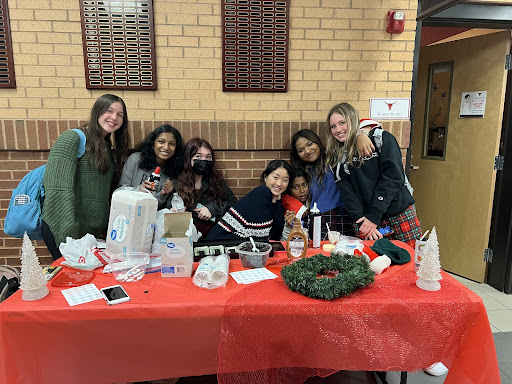 Last week Juniors Nora Zhao and Riya Jegajeevan ran a fundraiser to build a therapy corner in the school, where therapy dogs can comfort students. The two high schoolers set up a table and called it the "Puppuccino Stand." At the stand, they sold cups of whipped cream topped with a plethora of optional toppings. 
I am glad to report that their stand was a great success. By the end of it, they exceeded their goal of $200!
But what made them start up this stand? Who came up with this clever idea? What exactly is their plan?
I went on a journalistic journey to find out the origin of this stand from these young entrepreneurs and had an insightful interview with Riya and Nora.
Earlier in the year, marketing students, proud LCBO workers and dedicated DECA members, Nora and Riya decided to participate in a DECA competition.
They had to do a fundraiser about something they cared about. When they were given this platform to have a fundraiser, it was a no-brainer.
"We wanted to do something regarding mental health because that is really important to us," Riya said. "Especially because Lambert is such a competitive school…our suicide rates and mental health rates are so much different from other schools because of this." 
They were not the only ones thinking this. According to Nora, after sending out a poll to dozens of people, results came back saying that students would like for the school to do more about mental health awareness in this stressful school environment.
Now at this point in their journey, they had an idea but needed to bring their dreams of spreading mental health awareness to fruition.
"We found that a good way to help with that cause would be through therapy dogs because they are known to lower anxiety levels, and it would have a direct impact on students," Riya explained.
After these thoughts were explored they finally had a plan; there could be a therapy corner in the counselor's office, and the highly trained Lambert support dogs could bring relief to a stressed student. Along with a dog at the corner, there would be stress-relieving items and toys such as popits, puzzles, coloring books, etc.
They plan to use their earnings to pay for all of these items. Furthermore, since they have some money left over, they are donating to Rucker Dog Training, where most of the Lambert dogs train.
Once they finished their groundwork, they decided to open up the Puppuccino Stand.
Every day last week, these committed students set up their workplace and sold their products. They even got some help from their friends, which made that busy week a bit more manageable.
"It was so nice of my friends to go out of their way and help me," Riya said.
Nora too was grateful for all of the support she received, and from my interview, I could tell that she was excited about the future.
"It's been a stressful week…but overall it was really fun… knowing that I can spend this money on actually making my project happen is a really good feeling," Nora expressed. 
She also told me something very beautiful,
"When we say the message to people, they seem interested…knowing that it goes back to the students at Lambert and the therapy dogs," Nora noted.
By the end of the interview, I was excited. I cannot wait to see this beneficial implementation at Lambert. Nora and Riya's dedication, paired with their benevolent spirits, really makes me believe that these young students have a great future.
It's nice to see Longhorns taking initiative and helping the community.
Though the Puppuccino stand is over, Nora and Riya are still informing everybody about their cause. If you want to help them out, you can buy handmade beaded bracelets at Lambert branding Co. for two dollars. You could get one. You could even get five. Maybe you don't even really want a bracelet. But that's not the point.
It's more about what you can give, and not about what you can get.
Leave a Comment
Donate to The Lambert Post
Your donation will help support The Lambert Post, Lambert High Schools student-run newspaper! Your contribution will allow us to purchase equipment and cover website hosting costs.