Evelyn on Film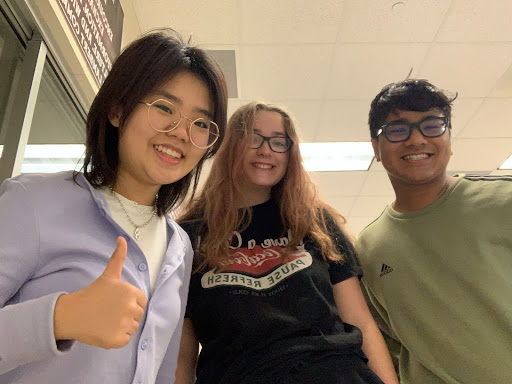 Evelyn Kim, a senior at Lambert, is currently in the Audio Video Technology and Film (AVTF) pathway where she creates many different film projects. Evelyn is in both the AVTF II and III classes and doing an internship as well.
In the AVTF III class, the students are all cooperating in making television shows. The class was split into three different groups with each group making their own TV show. The three shows are all based on a variety of different things ranging from a police drama to a show based on students at Lambert. 
Evelyn is filming a sitcom called, "I Didn't Do It," where there are three students managing the Lambert Branding Company. These students run into a lot of comical obstacles. There are three episodes in total and you can find the first two episodes on the Lambert Production YouTube Channel. 
The third episode is coming out this Friday during the "Mega Show."
"We are creating a mega show at the moment where we're comprising of all three shows that we have created into one giant show, along with Lambert AM and content," Evelyn stated.
The Mega Show doesn't just include the AVTF III class, though, there will be works from the AVTF I and II classes also. The Mega Show is meant to span over many hours and it will feature work made by many different students.
Evelyn worked as an actor and a writer for the show. This role entailed helping work on the script plot and, obviously, acting. With an extensive knowledge of the script, she was able to guide the other actors through the plots of each scene.
Although Evelyn's show "I Didn't Do It" finally wrapped production, that doesn't mean that it was an easy path to get there. In the beginning, there were a lot of issues with the scheduling as Mrs. L, the supervising teacher, wouldn't know when they would want to go into her room to film. The room would either be in use or locked when they needed it, and oftentimes there was an issue with communication.
There were many scenes that needed to be filmed outside school making it a challenge to find locations. If a scene needed to be filmed in a house, they would have to find an accessible house and a time everyone could work. During the weekends was especially difficult because people in the group might have plans that collide with the film schedule. This meant that it would take large sums of time to figure out when filming was possible.
Throughout this process, Evelyn learned a lot about what it takes to produce a sitcom and how hard writers have to work to make a funny script.
"I thought something interesting about the process was finding ways to be funny, whether that was obvious or whether that's something very little," she remarked. 
In producing a sitcom, the whole point is to be funny. There need be jokes packed into every minute of screentime. Through the process of producing "I Didn't Do It" Evelyn and her groupmates have learned to appreciate a good sitcom and the work that goes into it. 
Leave a Comment
Donate to The Lambert Post
Your donation will help support The Lambert Post, Lambert High Schools student-run newspaper! Your contribution will allow us to purchase equipment and cover website hosting costs.