Fat Bear Week
You are in the beautiful Katmai National Park and Preserve, it is early in the morning and you sure are hungry, so you decide to go stand in a river and wait, then in a flash of movement you lunge forward and open your jaw to catch a fish that had just leaped out of the water, it feels like a good day. 
That is a pretty standard description of the average bear's morning in Katmai national park which is located in the great frontier of Alaska, in the month of September, the average lives of these bears became much more interesting when an annual competition, that thousands of people watched with anticipation, began. The rules … simple, to get fat, and the fattest of them all would be crowned victor by the peoples will.
The competition is based on a bracket built by the rangers of the park. The size of the competition was blown out of the water this year with hundreds of thousands of people watching the competition intently voting weekly to send the winners of each battle on to hold the championship, which was taken by 435 Holly in the 2019 competition.
Some of the competitors this year were bears like 480 Otis who has won the competition three times previously, 435 Holly, last year's champion, and her cub. The list of competitors goes on with names like Chunk and 747 ringing bells for long-time followers of the competition; however, even with the competition being as beloved as it is, it serves a greater purpose past the simple amusement and joy that the followers get from it.
According to Naomi Boak and the Washington Post, the competition began in 2014 with the intent to, "celebrate all the hard work these bears do to survive and thrive and get through six months of starvation," all this work is deserving of credit and applause in Boak's eyes.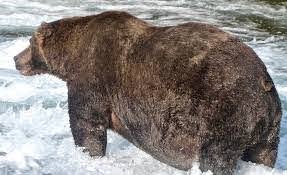 The conclusion of this year's nail-biting event, with about as many twists and turns as there were fish eaten by this year's cast of competitors, had been decided suddenly with a tweet from Katmai National Park and Reserve on October 6 with the final decision, "The votes are in! You've crowned the Earl of Avoirdupois, bear 747, the 2020 Fat Bear Week Champion. No longer the runner-up, 747 fulfills the fate of the fat and fabulous as he heads off to hibernation," and that was it, the conclusion to quite literally one of the largest competition's ever held. All that's left for the competitors this year is a long nap, but don't worry they will be back on the grind again next year to try and find a weighty victory.
View Comments(1)
Donate to The Lambert Post
Your donation will help support The Lambert Post, Lambert High Schools student-run newspaper! Your contribution will allow us to purchase equipment and cover website hosting costs.