Full-time student workers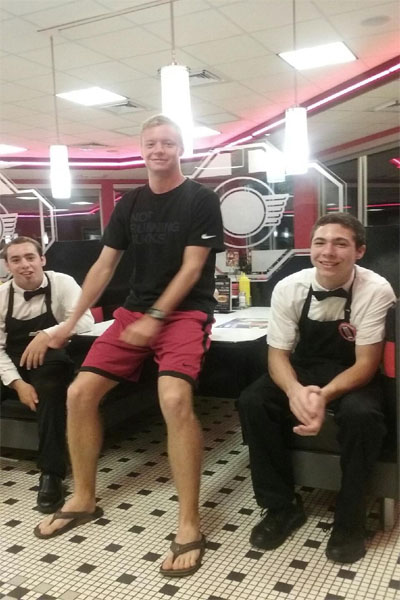 Most students (primarily juniors and seniors) at Lambert High start driving at the age of 16 to school, work, and really just anywhere. As they start driving along the road, most head off to their first jobs. As the upperclassmen grow into adulthood, they find themselves with a new problem: insufficient funds for their increasingly expensive lifestyle. Most American teenagers aren't fully financially supported by their parents. The parents have two main reasons for withholding a steady allowance from their children. One, the family  isn't able to support the expenses. Two, the family wants to educate their kids in obtaining self-responsibility. For these particular young drivers, the solution is to find jobs to support their own expenses including gas, food, and basic necessities as teenagers.
"I work five days a week, including the weekdays and the weekends," said Trevor Ziller, a Lambert junior who works at a local fast food restaurant. "I pay for my car, gas and food with the money I earn." Ziller is one of many who achieve their financial independence. These students start learning the responsibilities of taking a part in the community, a place much farther away from their parents' nests. The young adults prepare for their interviews. However, even with various jobs provided for all among the age groups, the students seem to be stuck with limited options. "Lots of places don't really want high school students due to their inconvenient working schedules and such. I applied to four places but only got accepted to one," explained Ziller as he recalled his struggles in the past.
After getting a job, the upperclassmen face an even harder task to keep up with: time management. "I definitely have less time to study for all things which causes more stress," explained Ziller. As a full time student, Ziller indicates his need to fulfill his role in school to be successful and to achieve further in education because of the hardship to maintain the balance under such pressure to take full responsibilities in both fields.
"I think it's still good to get a job and it's an experience necessary to move on in life," concluded Ziller. The outside-of-school education provides him with real life experience for the upcoming and realistic world outside the school's safety zone. Ziller is able to learn not just straight off of the textbooks, but from the first-hand experience that requires him to build some responsibility within himself. Overall, the student has a positive perspective of earning his own money in supporting himself as an upperclassman.
Many different high schools found across the United States, including Lambert, have a working system provided by the school to support the students in working and studying at the same time. Forsyth County provides a similar program called work based learning, which connects a student's career goal and career pathway with a productive work environment.  "Work based learning is available for juniors and seniors, and they earn an elective credit at high school for having a job. So every period you are off of campus, you have to work five hours per week for every one period they are off," explained Mrs. DiCarro, a Lambert counselor. Those students are eligible to leave early from school to go into their work fields, preferably related to their career pathways. Internships may be granted to each field which includes marketing, business, healthcare and etc. The community provides a variety of work sites where the students are to be trained to specific skills and duties.
"We want our students to understand that your academic career has to come before the job. You always have time to work once you graduate high school. While you are here, you really need to focus on your priorities," added Mrs. DiCarro. There are levels of importance, varying on each and every person. However, high school students are definitely recommended to focus on getting proper education in healthy conditions and environments. As long as the students are eligible to balance out the two stressful but necessary fields, the early economical experience is considered valuable. "I would definitely recommend high school students to get jobs. There are lots of good opportunities you can learn including customer services, working for somebody or with others, managing money and time management," added Mrs. DiCarro.
Top 10 popular jobs among high school students
Babysitter
Waiter/waitress
Grocery store employee
Tutor
Restaurant (Fast food, coffee) employee- cashier, drive thru
Retail sales
Delivery services
Internship
Camp counselor (mostly during summer break)
Lifeguard (mostly during summer break)
*Data strictly based off of Lambert High students
https://www.thebalance.com/how-to-find-your-first-job-2063898
Lambert High School, to be specific, offers information boards about student job and provides help to obtain one for the students.
Leave a Comment
Donate to The Lambert Post
Your donation will help support The Lambert Post, Lambert High Schools student-run newspaper! Your contribution will allow us to purchase equipment and cover website hosting costs.