His Limit Does Not Exist: Lambert's 2022 Teacher of the Year
Lambert has recognized teachers' excellence and success through the Teacher of The Year (TOTY) award since the school's opening. The Teacher of the Year is initially nominated by their fellow staff. Then, a committee of administration, staff and students endure the extensive process of evaluating each nominee's application. 
This year, six qualified teachers were nominated for the award: Mrs. Barlow, Coach Langley, Dr. Norton, Coach Pate, Mr. Wason and Mrs. Wilson.  
On September 2nd, 2022, Coach Pate was announced as Lambert's 2022-2023 Teacher of the Year.
Pate was overwhelmed with gratitude, and his family surprised him at the ceremony to show their support. 
"13 out of 15 of my family members were [sic] there, " he said proudly. "When something positive happens to you in my family everybody celebrates."
Pate's humility is admirable. He was in disbelief after he won. 
"I've never really considered myself to be the Teacher of the Year, so I have spent most of my time since they announced it trying to figure out if it actually happened or not," Pate explained. 
Pate's passion for helping others began at a young age. Being a teacher, regardless of whether it was in church or school, was something Pate wanted to pursue since adolescence. He was inspired by his family full of teachers.
"My mom and dad were both teachers," Pate said. "I have an aunt who is a teacher, cousins who are teachers and both my sisters wound up becoming teachers too."
 His teaching career has allowed him to achieve his lifelong goal of serving others.
"I want to help youth," Pate said. "I liked the idea of being in a place where I could help high school-aged youth make decisions about their future and invest in them…help them see that they have value."
When Pate was choosing a subject to teach, the vast number of different subjects left him perplexed.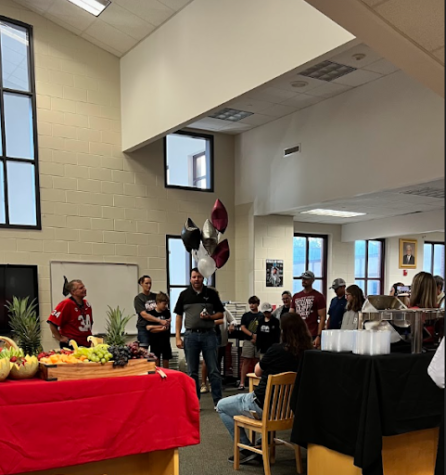 "I'm a big nerd," Pate explained. "I considered Lit, but I didn't want to grade essays. I considered science, but I didn't want to teach chemistry." 
He was initially going to teach history, his favorite subject, but he ultimately chose to teach mathematics because it gave him the opportunity to simultaneously coach athletics.
Pate's first teaching position began at Sequoyah High School in Cherokee County. While coaching at Sequoyah, he was impressed by the various Lambert teams that challenged his school. His sister, Mrs. Good, loved teaching social studies at Lambert, and she was another major influence in Pate's decision to join the Lambert team in 2015. 
Pate loves the Longhorn community and the school's mission, which aligns with his own values. 
"The culture here is unbelievable," he said. "The teachers here are just so good at their jobs, it makes you want to do better. And really ultimately it's the students… They care and want to do well." 
Since his arrival at Lambert, Pate has been heavily involved in the school. During his eight years as a Longhorn, Pate has taught geometry and statistics and coached golf and volleyball.
Currently he teaches precalculus and coaches the Girls' Varsity and JV Tennis teams. Additionally, he is a sponsor for the senior class and the Fellowship of Christian Athletes (FCA) and reads names at graduation. Pate is also active in the committee that welcomes new teachers and is a member of the Positive Behavioral Interventions and Supports (PBIS) team.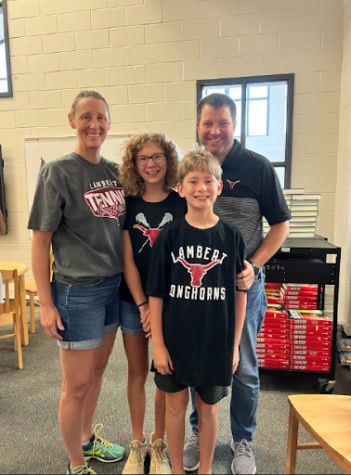 "I try very hard to be a part of the community that I am in," he explained.
He is adamant that none of his accomplishments would be possible without his loving wife, Jessica.
"My wife is amazing," Pate said. "She is proud of me, and she supports me. She is the least judgemental person that I have ever met, but still expects me to do my job well."
The two met while coaching at a volleyball camp and have now been married for over 15 years. They have two beautiful children: Ansley (11) and Oliver (9). 
Outside of school, Pate spends his time coaching his daughter's volleyball team and supporting his son in any of his afterschool activities. The Pate family also enjoys visiting museums, going on road trips and riding roller coasters. 
In his free time, Pate explores his love for other subjects by watching documentaries.
"I just like interesting stories…historical ones.. sports ones, anything really," Pate said. 
He also loves researching social psychology and reading studies.
While studying for his master's degree, Pate conducted his own study surrounding effective learning methods. He concluded that students remembered more information if they curated information on their own instead of simply regurgitating what they were taught. 
His study is the reason he always dedicates class time for students to process the information they learned and to collaborate with their peers.  
"I try very hard to make my students think as hard as they can," Pate explained. "I never let my students say 'I don't know.'"
As exemplified through his many endeavors, Pate greatly values education. Pate's ability to inspire year after year is a direct result of his mindset. 
"My focus is being as positive as possible and to make learning fun," Pate said.
Pate's attitude is a great contributor to his success. If you ever meet him, you will learn that he is a caring, dedicated teacher who wants the best for his students in every facet of their lives.  
Because Pate is Lambert's 2022-23 TOTY, he is now eligible to win Forsyth County Teacher of The Year. Coach Pate embodies the Longhorn Way, and we are proud that he will be representing Lambert at the county level.
Donate to The Lambert Post
Your donation will help support The Lambert Post, Lambert High Schools student-run newspaper! Your contribution will allow us to purchase equipment and cover website hosting costs.