Humans of Lambert: Divistarr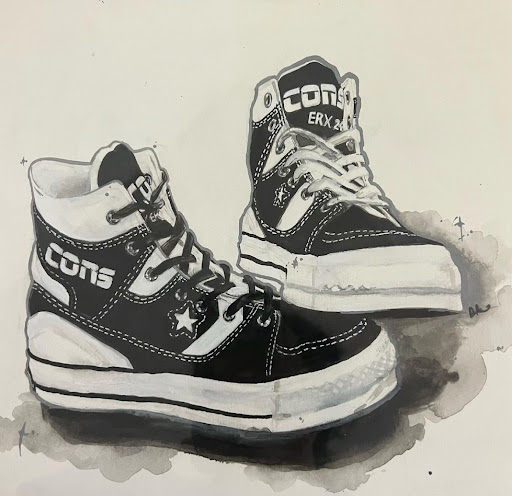 Divjot Kaur, known as D.J., is a sophomore at Lambert High School. Using Mediums to express herself and ideas, she is an artist fond of utilizing watercolors and graphite. 
To construct her ideas, D.J. chooses a color that she resonates with and her creativity follows. D.J. sees the world in different themes and incorporates them in her work through differentiating textures and colors. 
D.J. started perfecting her art from a very young age. She is unsure of the age she first began because she has been passionate about art for as long as she can remember.
"When I was little, I just picked up a pencil and made a shape and thought 'wow this is fun,'" D.J. said.
As D.J. continued to learn and grow, she acquired skills that helped her in various areas. She learned that she could create worlds of art through the shapes she was drawing. 
Over the years, D.J. has experimented with an abundance of different mediums to express herself through art. She loves using graphite because it is easy to control the intensity of the color shade based on the pressure of your hand. 
Another medium D.J. loves to use is watercolor, as she believes that this medium can express her paintings extremely well. In order for her to execute her art, she has to be precise in her decisions on the amount of water to use for each section.
D.J.'s favorite art style is retro art, more specifically retro space. 
"I love how they make the spaceships and the stars and planets," D.J. gushed. 
D.J. also loves famous art pieces such as Vincent Van Gogh's Head of a Skeleton with a Burning Cigarette. 
D.J. treasures all of the art that she produces and looks back fondly at all of them. Her favorite art piece that she has made always changes as she can never pick just one. 
As an attentive artist with compelling work, D.J. aspires to continue art throughout her entire life. She loves producing pieces and creating new worlds, which will always be a part of her life. 
Leave a Comment
Donate to The Lambert Post
Your donation will help support The Lambert Post, Lambert High Schools student-run newspaper! Your contribution will allow us to purchase equipment and cover website hosting costs.