India and the American Dream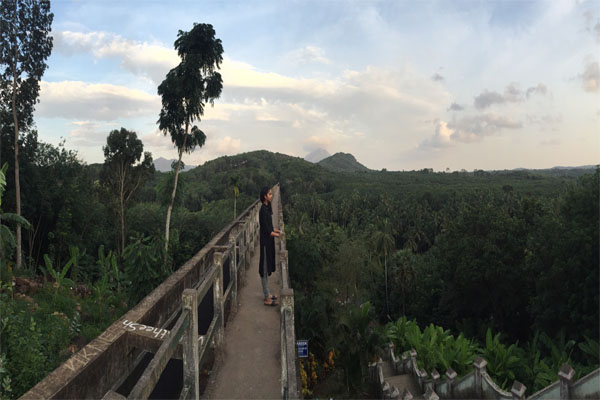 Look, I'm no trust fund baby. I'm the daughter of two first generation immigrants from India. I have lived in Georgia my entire life, and that's the reason my parents insisted on taking the family to India every other summer, for two entire months. This didn't mean I had seen the Taj Mahal or Ganges, because I never did, and we never planned to. Instead, I collected memories that most living on the Western hemisphere will never come close to experiencing. Living as an adolescent in one of the most privileged areas of the United States, it is easy to forget about what truly matters, and what I live for. My travel to India reminded me of the indestructible strength humans possess to make it through one more day. Without the trip this summer, I would not have realized the greatest thing that continues to give me hope, which is the American dream.
The entire bloodline of my family has its roots in the Kanyakumari District, which is the southern tip of India, hardly touched by invaders. Most of the summer was spent in the ancestral home that my grandparents returned to after their retirement. The area surrounding the house was a village called Marappadi, situated on the edge of a tiny town, where the same families have lived for hundreds of years. We drew water from a well and there were frequent power outages, but I was in love with the rawness of the place. India is often imagined as a desert, but it felt more like a rainforest during the monsoon. There were so many trees- jackfruit, coconut, mango, banana- that I had to climb the roof to see the sky. The dull clouds melted into a mountain of the Western Ghats that occupied most of the view. Trapped inside on rainy days, every little sound would bounce off the walls, making the place feel nearly empty. Some mornings, I would wake up to the sound of a blasted rooster, and sit under the ceiling fan that I never turned on because it felt too damp and cold. These mornings, I would reflect and write, because India was my longest muse.
Right outside the secure world my family had created for themselves were those that struggled. Across the dirt road in was an old man who had been kicked out of his home and married four different times. He had been dubbed a madman, but I often noticed him reading or writing profoundly. What I remember the most was how normal and human he was. He had a mighty, sincere voice and wrapped the same towel around his head as if it was just his favorite snapback. There was another man too, a beggar, who turned from riches to rags. He stood outside the house one day, and he wouldn't look at me in the eye. He stood there for a while, looking void of desire, but expectant at the same time. When my grandfather handed him some money, I couldn't forget the look of relief, gratefulness, and shame that shone across his face all at once as he raised his hands in praise and respect. He had been my grandfather's classmate, and the beggar's parents were quite loaded with property and money. He spent all this money living lavishly, or more specifically, dining lavishly. I absolutely could not stand the look of sorrow and regret in his eyes, and it is etched in my memory, because those are the emotions I will spend the rest of my life avoiding.
Never did I feel as lonely in India as I did in America, as there was endless family around. Just as in America, I was primarily surrounded by educated people with ambitions. Most of my relatives appeared to lead simple lives that lacked depression and desire. Yet the only choices seemed to be banking, engineering, teaching, management, and perhaps medicine, law, or business. There is very little room to pursue a passion or anything in the arts. After getting a job, they are usually married off, and there are very few choices you can make with only your own interests in mind. The likelihood of never settling down in India leaves my grandparents a little heartbroken. The glass ceiling just lies way too low above the heads in India.
As much as I love India, it will always just be place that I travel to. I could not have dreamed without my visits to Kanyakumari, and I cannot achieve my dreams without America. There are certain things that can only be accomplished in America, my home. The ambition, independence, and even the self-preservation is where I fit in. Without my muse of Kanyakumari, I would never be inspired to pursue my goals. Throughout all my travels, it is the way people live that never fails to astonish me. If there is one thing that I must live for,  it is the promising hope of the American dream, and no matter where I travel, that dream does not exist as perfectly as it does right here.
Leave a Comment
Donate to The Lambert Post
Your donation will help support The Lambert Post, Lambert High Schools student-run newspaper! Your contribution will allow us to purchase equipment and cover website hosting costs.