Lambert High Hosts Their Annual Wall to Wall Spirit Competition!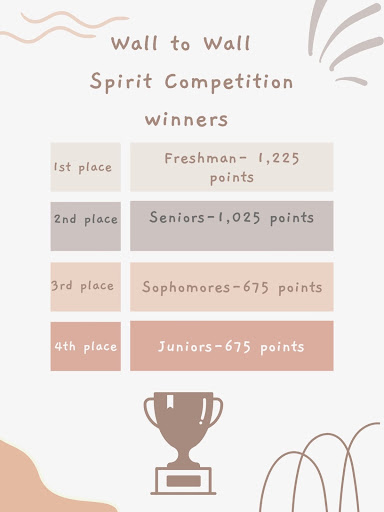 Lambert hosted their annual Wall to Wall spirit competition on December 9th and 10th. The spirit competition consisted of teacher participants and volunteers from the ambassador committee of the Student Government Association.
The ambassador committee of the SGA is a committee dedicated to assisting in affairs and events throughout the school. 
In the event, there were a plethora of unique games. One of them being the Oreo Cookie Slide. 
The game Oreo Cookie is a timed competition. Players put an oreo on their forehead, and use every muscle on their face to try to get the oreo to their mouth. The player with the most Oreos consumed in the shortest amount of time wins. 
Mrs. Young, an alumna of this spirit competition, proudly states her amazing performance in the Oreo Cookie event last year. Though, she feels bitter at the loss of her gold medal by the mere difference of one oreo.  This year, she hopes to lead the sophomores to victory by winning first place.
"I'm pretty competitive," Mrs. Young states. "I'd like to win for the class that picked me. Get them some points."
The winners of these games will contribute to the points for the ongoing spirit competition between the grade levels! The defeated grade level will suffer the consequences of having their sponsors pied in the face.
We interviewed a teacher who won their competition, Dr.Pak. 
The game that he participated in was the Spaghetti Marshmallow Tower. The goal of this game was to build the tallest tower in under 4 minutes. Although Dr. Pak was called on at the very last minute, he defeated his competitors and took first place. When asked about whether he would participate next year he gave the following response.  
"I would!" Dr. Pak enthusiastically replied. "I definitely am one that thinks about how to improve and make it to the top."
The Wall to Wall games has always been a delight for both teachers and students to participate in. The friendly competition is a great way to increase school spirit and Longhorn pride. This year the grade that won the spirit competition was the freshman class with a whopping 1,225 points. Although they won the spirit competition, it was not enough to win the main competition between grades and unfortunately the freshman lost. 
Leave a Comment
Donate to The Lambert Post
Your donation will help support The Lambert Post, Lambert High Schools student-run newspaper! Your contribution will allow us to purchase equipment and cover website hosting costs.