Lambert's Three New Therapy Dogs
Lambert's faculty is continuing to grow as three new therapy dogs have been added to the family to relieve anxiety and bring joy to the students and teachers!
Rules each student should follow when with a therapy dog:
Ask before petting

Students shouldn't feed them

Have good sanitation

Ideally, sit down before petting

Say "off" instead of "down"
CHARLIE: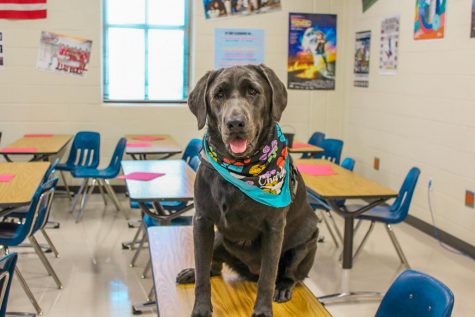 The year and a half old Charcoal Labrador Retriever named Charlie is owned by Mrs. Parker who teaches AP Psychology. 
Mrs. Parker got Charlie from a breeder at 8 weeks old, but unlike her old dog, Charlie was not so easy to train. She had to get professional help in order to train Charlie; she started in basic obedience classes with Scott Rucker. Once she began the next phase, off-leash obedience, Mrs. Parker started talking to Rucker about Charlie potentially becoming a therapy dog; it became the perfect plan.
Charlie helps out Lambert students by mostly staying in the psych class and relieving stress from tests as well as following Mrs. Parker as she walks down the hallways.
Mrs. Parker explains how therapy dogs tie into psychology, "That's kinda how Charlie fits, is that… you know… all this wellness and they're here to help ease anxiety and stress – like all of those are psychological problems that we talk about."
Students who aren't in Mrs. Parker's psychology class who want to see Charlie can follow and keep up with her on her account on Instagram @goodluckcharlie_lhs. If students happen to catch her in the hallway, they should feel free to come say hello, or they could also swing by Mrs. Parker's classroom, room 2866, in between classes. 
She explains how aside from being in the hallway, "The majority of [Charlie's] day is spent just helping my psychology students."
Fun fact:
Charlie is only one month older than Duck, and they were even in the same training class while also taking the therapy dog test the same day.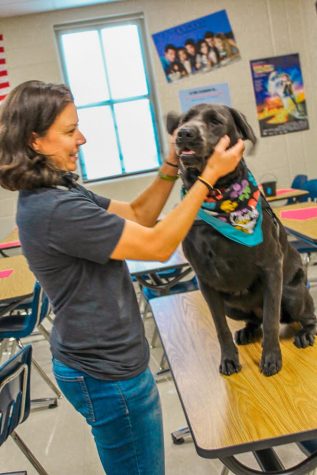 CLOVER: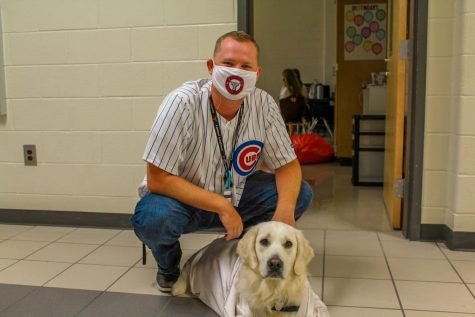 The nearly two-year-old English Cream Golden Retriever called Clover is owned by Coach Smith who teaches Special Education.
The day after online school started, Coach Smith adopted Clover from Scott Rucker at about a year and a couple months old, but he wasn't the one to decide whether Clover would become a therapy dog or not. 
Coach Smith continues, "[Rucker] has a deal with a breeder in Georgia that if dogs get owner-surrendered back to the breeder then they donate them to Scott, and Scott trains them based on temperament – they could become therapy dogs. Then he donates them back out."
Clover specifically helps out Lambert students that are a part of the Special Education class, and she truly helps relieve any stress as well as boost their confidence.
Coach Smith elaborates, "With my specific students, it's been cool to see how she and the other therapy dogs at Lambert have helped mostly with socialization… it's really cool to see our kids interacting with other students at Lambert because they have the confidence knowing that they have our dogs with them, and the other students wanting to come up and have a conversation with our kids… it's just a really cool conversation point to have the dogs with them, and also we do things like allowing our students to read to our dogs… that's been really really cool with literacy because dogs kind of have that no judgment and they just are great listeners and all of the dogs we have at Lambert bring a very calming just kind of presence."
Students who aren't in Coach Smith's classes who want to see Clover can visit and knock on one of two classrooms: rooms 1817 and 1818.
Coach Smith goes on to say that the reason they have so many therapy dogs is because they are there to support any students who are struggling or have anxiety. The purpose of the dogs is for the whole school.
MAGGIE: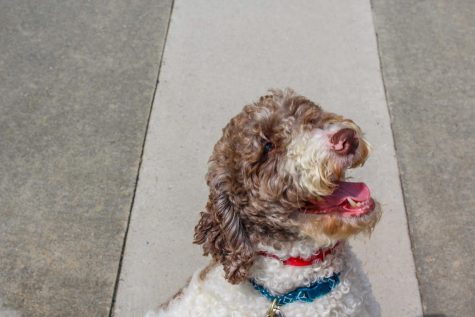 The nearly three-year-old Labradoodle with the name Maggie is owned by Mrs. Johnessee, the assistant principal of Lambert.
On September 3rd, Scott Rucker donated Maggie to Mrs. Johnessee, and she originally intended to take Maggie home as her personal pet, however, Rucker explained that he believed Maggie was ready to become a therapy dog as long as she continued to attend training.
Mrs. Johnessee explains how Maggie brings joy to students and teachers at LHS, "She's a very affectionate dog, so I have some students whose parents are staff members here who get to see her a little bit more because they'll be around us… and so they've said when they come in the morning and they come to see her, she just gives them a positive start to their day."
Students who wish to see Maggie right before school can find her in "the T", in between the counseling and front office, but usually, she would be in the counseling office. A student can simply ask for Maggie in the counseling office while keeping in mind to follow the rules. She also has an Instagram account @meet.magnolia where students can keep up with her outside of school!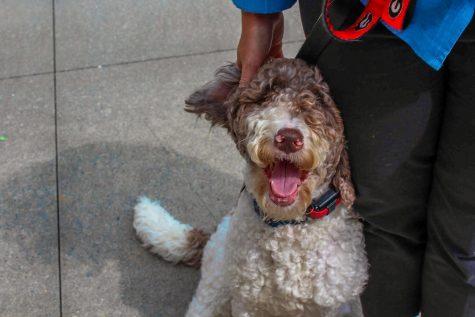 Leave a Comment
Donate to The Lambert Post
Your donation will help support The Lambert Post, Lambert High Schools student-run newspaper! Your contribution will allow us to purchase equipment and cover website hosting costs.