PJ McBrayer: marching band through his eyes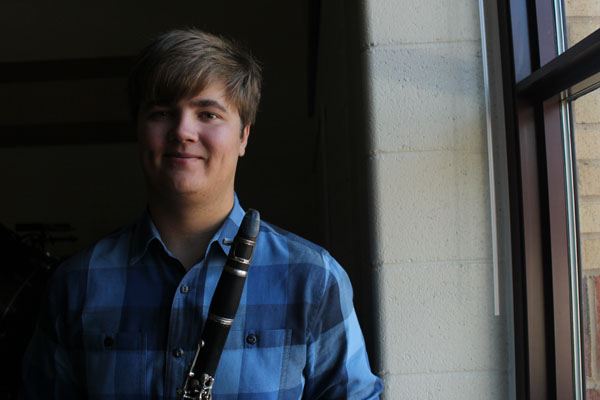 Patrick "P.J." McBrayer is one of a handful of seniors who have continued participating in band after middle school and throughout high school. Over the past four years, he has perfected his craft, and his hard work and dedication has resulted in great achievements and leadership positions.
Just recently, McBrayer was the only one out of the 13 Lambert students nominated for the 2016-17 All-American Marching Band to receive a spot. He was honored on Nov. 7 by the United States Army for his spot on the band. He joined 124 other students selected nationwide to perform at the halftime of the US Army All-American Bowl on Jan. 7, 2017 in Texas.
Lambert band director, Scott McCloy, nominated McBrayer, who then had to submit recordings of him playing his clarinet.  He was chosen not only for his musical ability but also for his "character and leadership."
McBrayer has the distinction of being the first Lambert student to be honored for any of the categories, including band, cheer, and football.
As impressive as this accomplishment is, the fact that McBrayer received it is not all too surprising. He is the marching band's band captain, the highest marching position and one of the highest overall positions in the entire band. He ensures that everyone stays in line, and "gets everyone up to the level we strive to be," especially during pre-competition season. In order to land the position, he had to audition. There is a written test over both leadership and marching vocabulary, as well as interviews for hopeful captains and drum majors.
Given all of these achievements, one may think McBrayer has been practicing music since he was young, but according to him, he had no musical experience prior to joining band in sixth grade, the elective he chose so he could have less P.E. When asked why he chose the clarinet, he said, "Because I got the best score," referring to the audition process 6th graders at Riverwatch undergo when selecting their instruments. They attempt to play four instruments (the flute, clarinet, trumpet, and trombone), and are scored on each one. The instrument they score highest on is the instrument the students play for the first few months before they have the opportunity to audition for more advanced instruments such as the saxophone, the French horn, the tuba, the bass clarinet, or percussion.
McBrayer said he wanted to play the trumpet initially, but he was not disappointed with his choice of clarinet because he and his friend were "trying to get on the same instrument, and we both ended up playing clarinet." Even though his friend quit after middle school, as many students do, McBrayer continued playing in high school because "it was a really fun thing, and it was something I never experienced before…and [band is where] I met all my friends."
Marching band is a great social activity, despite the many hours spent practicing. In fact, the long practices, usually on Tuesdays, Thursdays, and Fridays from 4-7 PM, are what allow band be a social extracurricular because bonds of friendship naturally form over those long hours of hard work and practice.
The band trips also are wonderful opportunities to create friendships and memories. McBrayer's favorite was the one to New York in his freshman year because of "friends, cool chaperones, and being able to do what we wanted to do. We also got to go watch cool Broadway shows, like Wicked," which he said was his first ever Broadway show.
For every opportunity that band provides, there are other opportunities it takes away from the students because it is such a time consuming activity. Not only are there three practices and football games to perform at each week, there is also marching band camp over the summer. Though only a week and a half long, the camp is intense as each day lasts from 11 A.M. to 6 P.M. Even with all the time, money, and effort put into marching band, McBrayer says he personally doesn't regret his decision to join, as he thinks it was "time well spent." When asked how he would have spent his time if he had quit band before or during high school, he admitted he would wasted time by playing "video games or sitting doing nothing."
Seeing how McBrayer is planning on continuing marching band in college, he clearly enjoys the activity. As a senior and one of the highest ranking leaders, he has a few words of wisdom for his younger band-mates. "Don't let the apathy take over," he warned then explained, "As the season progresses, people start getting apathetic towards the program because they're spending so much time towards it and they don't really see the result till the very end."  He further explained that marching band is "more process-focused rather than result-focused," and he promised that "at the end of the year, they're going to see something that's amazing and they [won't] believe they did that, that they made that show."
Leave a Comment
Donate to The Lambert Post
Your donation will help support The Lambert Post, Lambert High Schools student-run newspaper! Your contribution will allow us to purchase equipment and cover website hosting costs.