Sahil Sood: The Strategies Behind His Success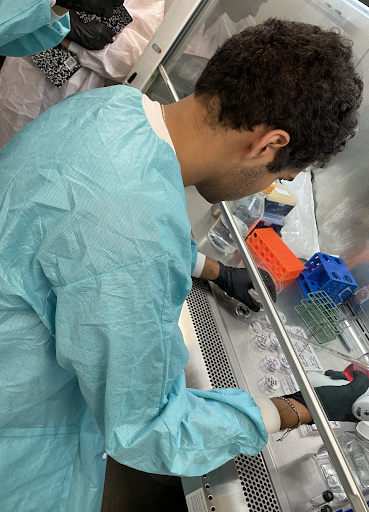 Sahil Sood is well-known for his academic accolades, not only at Lambert High School, but also internationally. Sahil has an abundance of achievements that students and adults alike admire, but his accomplishments are not a direct result of merely his intelligence. Sahil's success is due to his mindset and strategies. 
At a young age, Sahil stood out academically, always trying new things and expressing his passions. He recognized science, technology, engineering and mathematics (STEM) subjects as something that greatly interested him and decided to pursue extracurriculars that would further his knowledge in those areas. 
Gaining more experience, Sahil realized the importance of getting ahead and taking full advantage of all the opportunities that were presented to him. He worked hard to enter freshman year ahead of his peers in both academics and extracurriculars. However, COVID-19 put a halt to his advances, since Sahil was unable to pursue his activities. 
This hiatus caused a disparity in Sahil's freshman year; he became confined to his home for an uncertain period of time. His classes were online and extracurriculars were at a standstill. However, Sahil made a plan to thrive in this new found time, spending each day learning more about his passions. 
"I started to learn how to effectively plan and block out my time, especially during the pandemic," Sood stated. "I would take the time to block out the rest of my day, hour by hour and it made it really easy for me to track my progress."
During Covid, Sahil had a loss in his family, and this led him to become very passionate about finding a preventative solution. Sahil used the planning skills he accumulated to create an outline project for his COVID-19 preventative. 
His vision was a reflection of his passion and knowledge in the STEM field. With a goal in mind, Sahil networked with a wide range of different professors with the prospects of a mentorship.
"I think that networking is useless unless you have a vision," Sahil said. "I approached all these professors that I reached out to with a very clear cut vision of what I wanted to do." 
 Sahil relied on his networking skills to land a mentorship with Professor Nicky Modhi, a teacher at the Philadelphia College of Osteopathic Medicine. Beginning his sophomore year, Sahil worked tirelessly to develop a COVID-19 preventative, in hopes to prevent anyone else from having experience a loss like he did. 
Sahil finally reached his three-year long goal, with the creation of his preventative. Ecstatic about his accomplishment, he wanted to share it with the world. He started applying to science conferences at top universities, where he hoped his hard work would be recognized. 
Applying to speak at a handful of colleges, Sahil was certain that he would be invited to at least one of them. To his surprise, Sahil received invitations to speak at Harvard, Massachusetts Institute of Technology and John Hopkins about his pandemic project. 
Sahil's philosophy of seeking out opportunities has allowed him to discover his passions and future aspirations. 
Sahil credits his achievements to his mindset and encourages underclassmen to take a similar approach to  their academics and extracurriculars. 
"Don't be afraid to try things, immerse yourself in as many opportunities early on," Sahil said. "So put yourself out there and join all the clubs you think you'll be interested in, you can figure out which ones you want to pursue and put time into later."
Sahil's message to longhorns is simple and uplifting, and it's something he has embodied throughout his time at Lambert: take as many opportunities as you can.
Sahil's actions and involvements during his time at Lambert High School will benefit him for the rest of his life. Not only marking the start to his many discoveries, but also resembling a significant time in his life.
Donate to The Lambert Post
Your donation will help support The Lambert Post, Lambert High Schools student-run newspaper! Your contribution will allow us to purchase equipment and cover website hosting costs.