Sean Connery, a Momento
On October 31 of this year in the beautiful capital of the Bahamas, Nassau, one of many recent tragedies took place, a tragedy which deserves a pause from everyone. On October 31 Sir Thomas "Sean" Connery, a galaxy on the same stage as stars, passed away at the age of 90. He died peacefully in his sleep.
Connery was born on August 25, 1930, in Fountainbridge, Edinburgh. The icon was not originally an actor, and for the first portion of his working life, he found himself in an odd assortment of jobs before acting. Some of his most notable pre-fame jobs were his enlistment in the Royal Navy and his subsequent jobs as a coffin polisher, bricklayer, and lifeguard. One of his notable early achievements came from his pastime of bodybuilding. In 1950 he placed third in the competition for Mr. Universe. His outstanding ability as a bodybuilder led to a job in modeling which eventually put him on the path to becoming the greatest actor to have ever graced Scottish heritage. Connery's debut into the world of acting was not glorious or sudden, quite a few years were spent working small roles in theatrical parts and choruses. 
Connery's push to stardom began with his first notable role in a movie came from the character Spike in No Road Back (1957). His newfound success as an actor led to appearances elsewhere: guest-starring in television series, roles in a few made-for-tv movies, and other films for the next few years. But the step that took Connery from a successful actor to a man, who will be remembered throughout the world as an epitome of talent and personality. It came suddenly with a phrase that is now beloved by all. "Bond, James Bond." 
James Bond was not only Connery's most successful role, it was also the role that defined his career. He played the role of secret agent 007 initially in 1962 with the first hit of Dr. No, and five more times over the next two decades, under the coordination of renowned director Ian Flemming. Amazingly Connery's roles as an actor didn't stagnate with his newfound fame across the globe, he went on to play in other major roles alongside his career as Bond such as: The Hill (1965), The Murder on the Orient Express (1974), Time Bandits (1981), and many other significant roles.
Connery said his farewells as Bond in 1983 with his finale in the role-playing a much wiser and more refined Bond in Never Say Never Again. He went on to keep acting throughout his years. Even with age his skill as an actor never declined, many agree that Connery's ability as an actor only increased with age.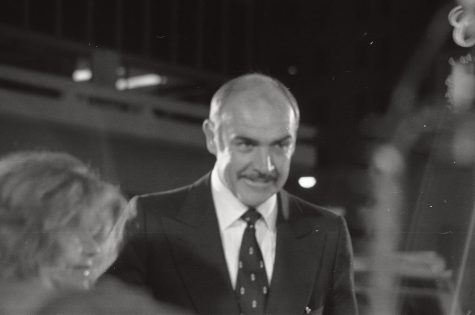 In 1989 Connery was voted sexiest man alive by People's magazine at nearly the age of 60. His awards didn't stop there however, he was eventually named "Scotland's Greatest Living National Treasure" and "The Greatest Living Scot". And finally at the age of 69 Connery was voted the "Sexiest Man of the Century" in 1999. Apart from all of these achievements he also had 38 wins and 29 nominations in different competitions including an Oscar and three Golden Globes.
His final major role in acting was his role in 2003's The League of Extraordinary Gentlemen. In his later years of life, he retired to the capital of the Bahamas, where he resided for quite a few years with no public appearances due to his problems with dementia. He passed away from heart failure. And now, suddenly one of the most gargantuan figures in the acting world has faded away. Rest in Peace.
Leave a Comment
Donate to The Lambert Post
Your donation will help support The Lambert Post, Lambert High Schools student-run newspaper! Your contribution will allow us to purchase equipment and cover website hosting costs.