The journal of a Lambert student's trip to Neply, Haiti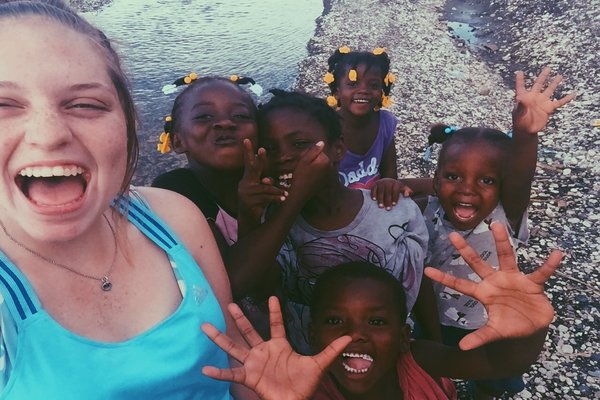 Lambert High School junior, Abbey Darwin, spent the last week in Neply, Haiti on a mission trip with Client Command. On September 10, Abbey, the only teenager attending, left for the international airport, leaving with the purpose to immerse herself in the culture of this relational community she would be staying in.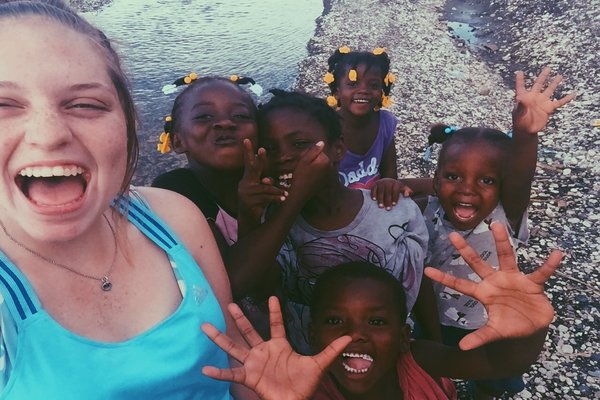 On Sunday, Sept. 11, Darwin plunged into a small, poverty-stricken community in Neply, excited for the week of missional work ahead.
"I experienced church in a different but exciting way this past week. In Haiti, you can only go to church if you have high status, or look a certain way, so not many people attend. This week though, through an organization called My Life Speaks, everybody in the town was invited to church. The sermon was about prayer and the preacher related it really well to the Haitians, because most of them believe in voodoo. So he related it back to them by reassuring them God can defeat their fear of the devil."
Monday was the first day of school, so the town was free of chaos. Darwin and the rest of My Life Speaks spent the day washing clothes for people.
"Washing clothes in the community is considered the lowest status in the community. When people wash clothes they are considered to be low on the social ladder. People questioned us performing this act, but we had the goal to demonstrate that everyone in the community is equal."
The feeding program was also a big part of Darwin's week. It entailed a group of interns helping feed up to 120 kids every single day. She described this activity as rewarding yet eye-opening to the hardships that children of all ages go through in other countries.
"Tuesday was one of our busiest days. All the interns and people I traveled with spent the first part of the day on a boat in the middle of the ocean. The boat was entirely made out of wood. We literally sailed out to the middle of the ocean and just dove into the water."
While she spent the first half of her day taking in the Haitian sights, her second part of the day was filled with clearing a giant field, and bonding with her new friend, Akym.
"The organization planted in Haiti, called My Life Speaks, bought an enormous field that had at least a foot of dirt, leaves, and trash that we had to clear. A guy with a machete cut down trees and we followed behind, raking up the clutter left behind. Even though it was really gross, this was the time I really got to know a boy around my age named Akym. He spoke English really well, and he taught me some Creole."
Also later that day, after Darwin got to know Akym, she helped lead 7214, which is a teen at risk program. Teenagers in the community are invited to be taught life skills and do devotionals.
"On Wednesday, I got to be with the elderly living in the village. They were invited to participate in games, stretches, and a devotional. Akym and his brother, Daniel, helped translate. This was a really worthwhile experience to be able to talk to and just be with the people in the town."
On Thursday, Darwin participated in 7214 once again. She explained how she learned more about the program and why teenagers are more at risk in Haiti.
"This program was designed to help teenagers feel like they have a purpose. It teaches them life skills while also incorporating a devotion to teach them more about God. I learned that teens living here are 50% at risk and some others are child slaves. Children slaves here are called restaveks, which means they are sent by their parents to work for another family, kind of like a domestic servant, so they can have access to food or education. A lot of kids our age come from families that lack the resources they need to be stable. I really enjoyed the days I got to be apart of 7214 because I loved being with kids that were my age but had such different stories. It was just a cool experience."
On Friday, Abbey had another beach day, but this time she was able to engage in more conversations with the locals.
"I had another beach day, but this time with more interns that we had been working with all week. I went around and bartered for souvenirs on the beach with people selling home-made goods. Many people were selling items because a lot of tourists visit since it is considered a 'nicer' beach."
Darwin, when describing her most recent trip, compared it to her other numerous travels. She has served in the Dominican Republic, Ethiopia, and Cameroon, but has also been to numerous locations in Europe and all over the United States.
"Haiti was way different from the Dominican Republic poverty wise. Although they share an island, the city in the Dominican Republic that I stayed in did not seem as destitute as Neply. It reminded me of an African country; it was for sure a third world country. I do not take any of my experiences for granted though; I appreciate every place I have been called to go. Every second I spend pursuing my passion of helping others is a second that is not wasted. I intend on going back to this community, maybe even next summer to work as an intern. Every move you make in life will have an impact, so I encourage everyone to make one."
Leave a Comment
Donate to The Lambert Post
Your donation will help support The Lambert Post, Lambert High Schools student-run newspaper! Your contribution will allow us to purchase equipment and cover website hosting costs.