Halloween Around the World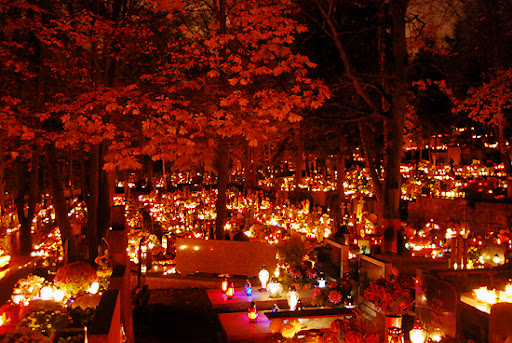 Halloween, which is celebrated annually on October 31st, is one of the world's largest festivals. It is also one of the oldest traditions and reflects on an essential element for humans: the relationship between the living and the dead. The tradition of Halloween originates from the ancient Celtic festival of Samhain. The Celts, who lived 2,000 years ago in the area that is now Ireland, the United Kingdom and northern France, celebrated their new year on November 1st. 
"This day marked the end of summer and the beginning of the dark, cold winter, a time of year that was often associated with a human death," History.com explains. "Celts believed that on the night before the new year, the boundary between the worlds of the living and the dead became blurred. On the night of October 31, they celebrated Samhain when it was believed that the ghosts of the dead returned to Earth." 
Halloween is celebrated around the world Many of these countries celebrate the holiday depending on their varying cultures, beliefs and traditions.
Mexico: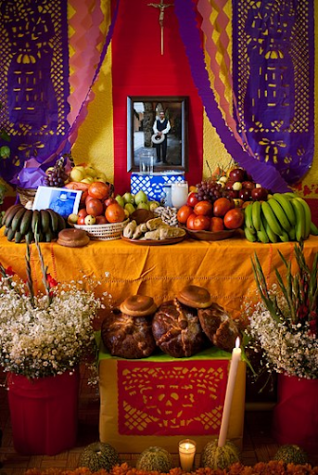 Mexicans do not necessarily celebrate Halloween in title, but they do celebrate the "Day of the Dead, or better known as: Día de Los Muertos". The Day of the Dead is one of the biggest and most famous festivals in Mexico, celebrated from October 31st to November 2nd. In some towns, the festivities begin a week or two in advance, with colorful processions, flower creations and displays of many traditional handicrafts. These celebrations attract visitors from all around the globe to experience Mexico's traditional spirituality and happiness towards seeing their deceased loved ones.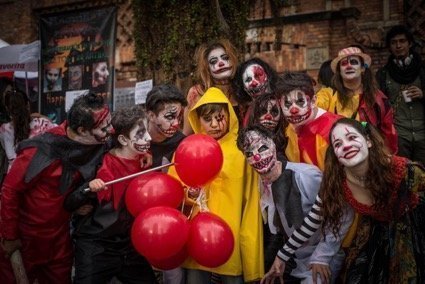 Colombia:
In Colombia, Halloween is celebrated similarly to the United States. Halloween in Colombia is called, "Noche de brujas" (Night of the Witches). Children and adults dress up in their costumes and go door-to-door asking for candy. Walking the streets, you'll see Batman, fairies, dogs, ninjas, and cowboys.. However, instead of saying "trick or treat", Colombians sing a short song to receive candy. In Bogota, the capital city of Colombia, there is an annual zombie march where over 40,000 people dress up as zombies and roam the streets. 
"Kids dress up in their costumes to go to school that day. And they have a parade at schools," Mrs Gallimore said. Mrs. Gallimore currently teaches Spanish at Lambert High School and she has lived in Colombia for many years when she was younger. Celebrating Halloween was one of her favorite holidays to participate in!
Poland:
Even though Polish stores might decorate their store windows for Halloween and host costume parties, many Polish people are very protective of their traditions.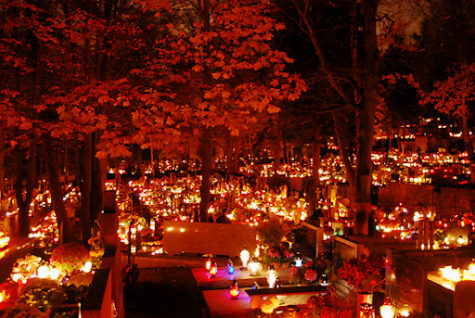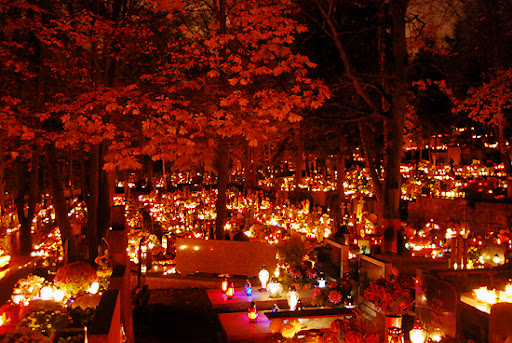 They want their traditions to be their original idea and not incorporated by another country. Thus, the Americanized version of Halloween has not gained much popularity in Poland. Instead, the Polish celebrate Forefathers Eve, an old Slavic custom that has been combined with the Christian celebrations of All Souls' Day held on November 2nd. All Saints Day is followed by All Souls' Day. During this celebratory time, the Polish hold a silent procession to their ancestors' graves, where a candle is lit and placed on the graves of friends and relatives. On this auspicious night, extra plates of food are set on dinner tables. The polish do this because they believe that the spirits of the dead join them for dinner. After dinner, the leftover food is taken to the cemetery for their deceased ancestors.
Philippines: 
In the Philippines, children participate in Pangangaluluwâ and go door-to-door singing songs in exchange for sweets on October 31st. However, the country's traditional celebration takes place on November 1st and 2nd. People in the Philippines spend this time holding reunions in the cemetery, where tombs are cleaned and repaired and prayers are offered, followed by fun and feasts. 
"We in the Philippines don't celebrate all hallows eve by pumpkin-carving or apple-bobbing (although families in some areas have begun to practice trick-or-treating)—we celebrate it with flickering candles, fragrant flowers, thoughtful prayers, and group visits to the cemetery," Holidappy explains.
Costa Rica: 
The Costa Rican Masquerade Day, "La Mascarada", is an adaptation of Halloween in the U.S., usually celebrated on October 31st. This tradition is a recent tradition that has gained popularity in the last few years. Masquerade Day is a colorful parade of giant masks, in which people with giant costumed puppets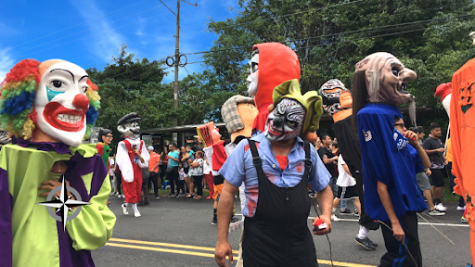 march the streets. They are usually accompanied by small music bands known as cimarron, whose skills are usually derived from the locals. Members of the cimarron band are self-taught because there are no scores to read, so each member learns through the ears. This musical part of Masquerade Day is believed to be among the oldest traditions in Costa Rica, and it's one that the Ministry of Culture makes sure that the tradition does not disappear.
Although Halloween is derived from ancient festivals and religious rituals, it is still widely celebrated today in a number of countries around the world. Whether it's filling yourself with candy, flying kites, dressing up as a monster, or having a parade, Halloween is a worldwide festival that everyone can enjoy!

Donate to The Lambert Post
Your donation will help support The Lambert Post, Lambert High Schools student-run newspaper! Your contribution will allow us to purchase equipment and cover website hosting costs.