Lambert FBLA members taken to the Georgia State Leadership Conference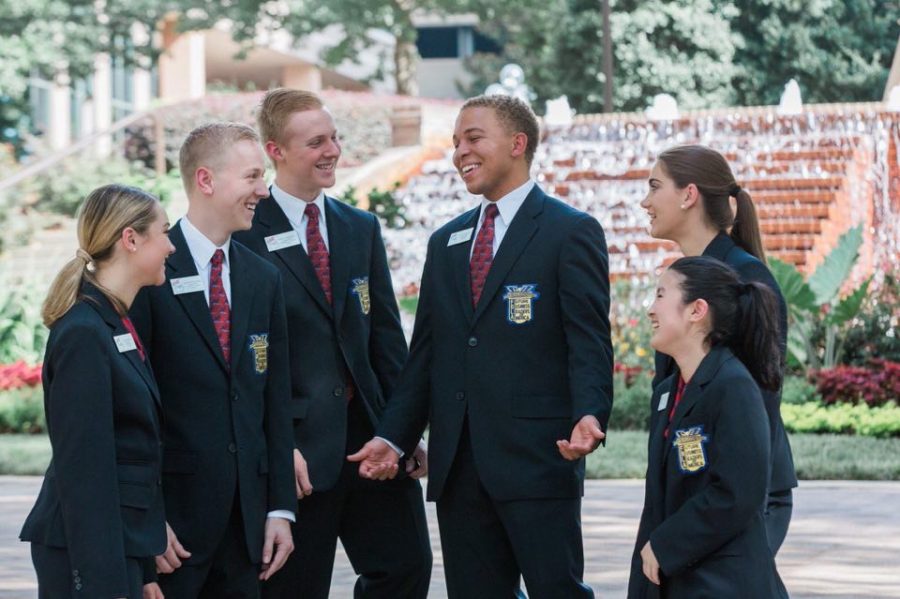 A State Leadership Conference (SLC) for the entire state of Georgia's Future Business Leaders of America (FBLA) program took place in Athens, GA this month. The conference's objective is to provide high school students with opportunities to compete with students from the entire state in business events and to attend informative workshops. The conference also hosts the yearly elections for Georgia's FBLA officers. This conference allows students to test their skills and prepares them for college and their future career.
The biggest event was the farewell speech from the Georgia State FBLA president, Royce Dickerson. Royce is a Lambert High School student who won the election for President, the highest position, at last year's conference. Royce is a senior and will be graduating at the end of the school year, leaving FBLA. Royce Dickerson said about FBLA in an interview, "it has changed my life. I love FBLA and all the chances they gave me to compete, travel, network, and have fun." Mrs. Fagan, The Lambert FBLA director feels that the conference "was the highlight of my career. Seeing Royce up on stage and give his farewell speech was truly wonderful."
The conference includes over 65 competitive events. It challenges students in business skills and teaches them how to network, both on a state and even national level. It inspires students by giving them so many opportunities in diverse areas that they might excel. The SLC is helping shape and improve the future leaders of the country and the world.
During the conference several awards were handed out to Lambert's FBLA and many of its members:
Lambert FBLA received Gold Chapter – Superior rating and was awarded 2nd Place for Chapter of the Year.
Royce Dickerson gave his final farewell as Georgia FBLA State President.
Mrs. Jager was awarded New Adviser of the Year!
Lambert received Largest Local Chapter "ever" in the history of Georgia FBLA with 519 members!
1st Place in E-business
Sudeep Annem
Abhideep Budda
2nd Place in Accounting II
Stuart Reese
2nd Place in Agribusiness
Maggie Baxter
2nd Place in Business Law
D J Barber
2nd Place in Future Business Leader
Royce Dickerson
2nd Management Decision Making
Royce Dickerson
Sai Kilaru
Sayuj Shajith
2nd Place in Networking Concepts
Hunter Lee
3rd Place in Accounting II
Molly Williams
3rd Place in Agribusiness
Lucia Morris
3rd Place in Healthcare Administration
Nicole Mistry
3rd Place in Management Information Systems
Allen Seo
Darren Yu – individual (7th)
4th Place in Business Law
Andrew Hama
4th Place in Computer Problem Solving
Hunter Lee
5th Place in Business Plan
Justin Ahn
Mehul Kumar
Nikhil Reddy
5th Place in Entrepreneurship
D J Barber (super team)
6th Place in Management Decision Making
Jordan Baker – individual qualifier
Ishaan Bhasin
7th Place in Intro to Business Procedures
Corbin Fricker
7th Place in Management Decision Making
Katie Anderson
Maxwell Kimble
8th Place in Accounting II
Carina Hernandez
9th Place in Accounting I
Ben Spitzer
10th Banking & Financial Systems
Sheza Chaudhry – individual qualifier
Esha Patra – individual qualifier
10th Intro to Business Communication
Erin Kim