Lambert Longhorns gather together for homecoming pep rally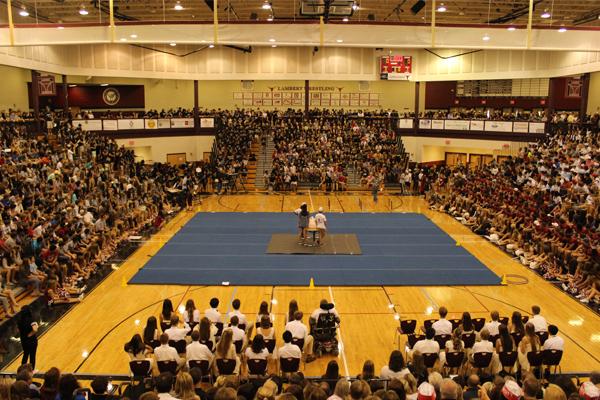 Lambert held a pep rally on Friday, September 9th. The pep rally was held to get the Longhorn spirits lifted for the weekend ahead. The week consisted of dressing up for spirit week, a homecoming game, and a homecoming dance. What better way to come together to share that Longhorn pride than a pep rally.
The students were greeted in the gym by the cheerleaders out on the floor. Students found their peers and took a seat in the crowd of classmates, and were eagerly waiting for the pep rally to begin.
After all the students gathered in the gymnasium, it was time for the homecoming court to be announced. The students selected by their classes, graciously walked across the floor. Their parents and the student body all cheered them on in preparation for the game that night.
Next the students were entertained with a game, teachers versus students. The participants were required to complete obstacles courses while eating doughnuts in between. As sickening as it sounds it was a hilarious game for the students to watch.
After the senior class took the win, student's and their families were amazed by a performance from the school's competition cheerleading team. They hit an nearly perfect routine which managed to get the Longhorns fired up.
To wrap up the event, Lambert vice principal Tom Bass came out to chant the famous "Longhorn Pride" cheer. It wouldn't be a true pep rally without it. The students then returned to their classes ecstatic for the weekend before them.