Lambert practices kindness: dude. be nice week 2017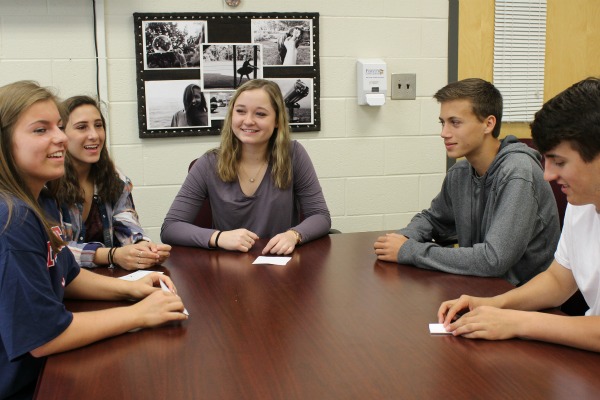 Sensing a need for spreading positivity in communities and schools across America, Brent Camalich decided to found an apparel company that promotes precisely that. The dude. be nice project is "platform to inspire people to build a positive community by recognizing a person or group in a fun, creative, and meaningful way," according to the DBN website.
Lambert is one of hundreds of schools that participates in the nationwide dude. be nice week. After learning about it at The Georgia Association of Student Councils Convention and a successful trial week during last year's school year, Compass, the school's student ambassador group, decided to make it a school tradition.
This year, the school was buzzing with various activities for dude. be nice week which took place Apr 17-21. Compass divided into five committees, each led by a sophomore, in order to make the week filled with positivity spreading events. Sophomores Hayden Fontana, Cara Holmberg, Danielle Bass, Lily Beranek, and Tanner Booth were this year's leaders of dude. be nice week and the committees. Counselor and Compass sponsor Shari Endo chose them because she sees "potential in them," and she hopes their potential is brought out through this leadership role.
Holmberg was in charge of the HUGS committee that sold Hershey Kisses throughout the week. People could order one to send to a friend with a handwritten note attached, which people received on Friday.
Bass led the compliment committee, the one responsible for the sticky notes on Mon., messages on the bathroom mirrors on Tues., flyers on Wed., and lollipops distributed in the morning at the carpool line on Thurs., all which had compliments and encouragements attached to or written on them.
Beranek headed the Recognition committee that daily recognized during the morning announcements a student from each grade who lead by good example. These students were chosen by the committee that consisted of "a few people from each grade, who went around and discussed a few people from each grade who they thought [deserved to be recognized and thanked]," explained Beranek.
Booth was the leader of the Community Service Committee, and the Compass members in that committee went to a local elementary school each morning to replace the teachers in the carpool and bus lines. Typically, teachers stand in the carpool line to open the car doors and greet the children, but with Milestones, they need to prepare their classrooms. In stepped the Compass students who did the carpool duty so that teachers can get ready for the tests.
Fontana organized the Advertising committee, and its primary duty was to advertise the dude. be nice week in advance to the actual week.
The week concluded with the final pep rally of the year, an event filled with a newspaper prom dress creation competition, performance by the Lambert Dance Company, and competitions between the different grades.