Lambert wins big at DECA Region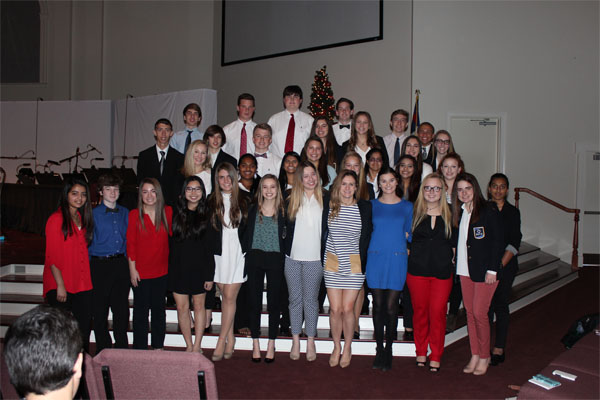 Lambert's DECA chapter attended the DECA Region Competition at First Baptist Cumming on Dec. 1st where 19 students showcased the leadership skills that qualified them for the state competition in February.
In professional business attire, students were able to contend against their fellow DECA counterparts for a chance to place in the event of their choice. Some categories in which students were able to compete in comprised of events such as principles of finance, automotive service marketing, business speech, and many more.
At the competition, students primarily participated in roleplay-based events in front of panels composed of up to three judges. In this event, students were given a scenario with 10 minutes to read through it and formulate ideas/solutions that were then presented in front of the judges. The roleplay's content was in accordance with their event's category. DECA competitor, Shivika Kandhal, recalls that the environment in the local church as "very frantic" and "nerve-wracking" at first, but then shifted to everyone "bonding over the experience" as the competitions ceased.
The competition concluded with a formal award ceremony awarding the 19 Lambert students who placed in their events:
1st Place:
Lucia Morris – Business Services Marketing
Michael Buckner – Principles of Finance
2nd Place:
Laura Hancher – Accounting Applications Series
McLain Meriam – Automotive Services Marketing
Chase Malinowski – Business Finance
Keller Boston – Business Speech
Kate Winters – Marketing Communications
Sheza Chaudhry – Principles of Finance
Megan Cote – Principles of Hospitality and Tourism
3rd Place:
Ari Vlajk – Quick Serve Restaurant Management
4th Place:
Royce Dickerson – Apparel and Accessories Marketing
5th Place:
Shivika Kandhal – Automotive Services Marketing
Alec Fiechter – Food Marketing Series
Sofia Cenciarelli – Hotel and Lodging Management
Naomi Chen – Restaurant and Food Service Management
Olivia Ladd – Retail Merchandising
6th Place:
Manali Sunkara – Hotel and Lodging Management
Paulina Molina – Human Resources Management
Emily Conner – Marketing Communications