Matt Lauer and Charlie Rose fired for sexual harassment claims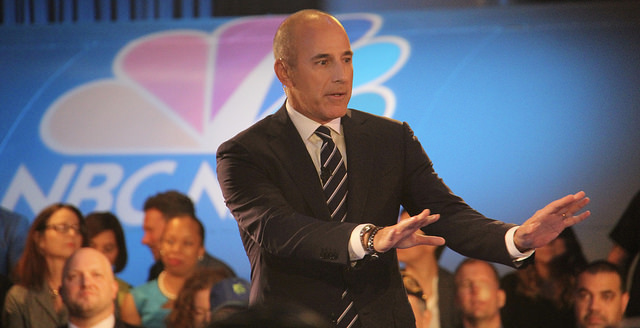 Today Show Co-Host Matt Lauer and CBS This Morning Co-Host Charlie Rose have been fired over sexual harassment allegations, joining the list of many celebrities and high profile people who have been accused of sexual harassment within the past two months. Also last week, Russell Simmons the CEO of Rush Communications has stepped down from his company over sexual assault claims, as well as David Sweeney who was fired last Wednesday, November 29th, from NPR.    
Just last Thursday, November 30th, the U.S. House of Representatives approved mandatory anti-harassment training for lawmakers and aides that will be held annually. Nancy Pelosi and other  encouraged John Conyers to step down from office after allegations of sexual harassment. Twelve days ago, former Oklahoma state senator Ralph Shortey pleaded guilty to sexual trafficking of a child while in office.
Over the past two months dozens of men in film and business industries have been fired or have resigned from their job due to sexual harassment or sexual assault allegations. Many are still under investigation. NBC has confirmed that Matt Lauer will not receive the remainder of his contract valued at $20 million. Since the firing of Charlie Rose from CBS, PBS has also canceled his show "Charlie Rose."