National Walkout Day, and the Lambert students behind it
Approximately 300 Lambert students braved the cold March weather to join in the masses of walkers from New York to California that made history yesterday. Throughout the nation, and even across the world, students began walking at 10am in remembrance of the Marjory Stoneman Douglas High School shooting and to speak out in preventing further incidents like it. Students of all different grades, political beliefs, races, genders, and sexualities, were united through this cause, and every student had a different reason for walking and a different story to tell. Here are what some students have to say.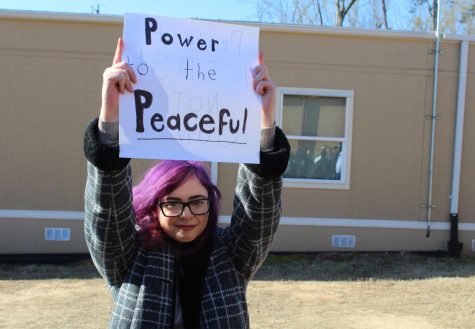 Emma North
Rebecca Shadoff, a junior, connects to Parkland through their shared Jewish roots. "It's a cause that's very near and dear to my heart, especially since the Parkland shooting – it was a very large Jewish community that was affected," she says, "I'm Jewish myself and when my Jewish community is affected, it's very important for me to protest and make a statement. I was to memorialize all the people who tragically lost their lives and show my solidarity."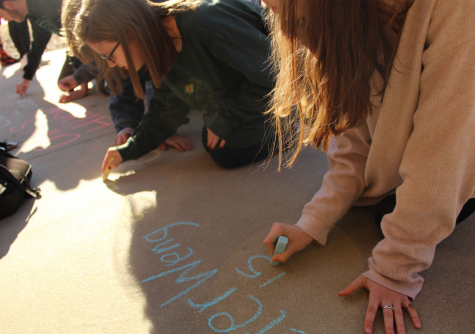 Danielle Heslin, a senior, was found writing the names of the victims in chalk during the march. She says, "No matter what you believe in and what kind of stance you think should happen as far as this whole situation, it's very important that we recognize what happened and you know, we contribute to those who lost their lives. And I think, regardless of what you believe, I think a lot of us out here have the same mindset. That's why we're writing the names on the ground – we're here in remembrance of those who don't have a voice anymore, so we have to be a voice for them."
On February 14th, 2018, a mass shooting occurred at Marjory Stoneman Douglas High School in Parkland, Florida, leaving 17 wounded and 17 dead. This made the incident one of the world's deadliest school massacres and incited a wave of student activism against gun violence and school shootings. Since then, the students of Marjory Stoneman Douglas High School and students across the nation have been taking actions to make sure that they will never have to face events such as that in Parkland again.
"We want to stand with the 17 lives that were taken that day, to show our community between all the students and to show that Lambert cares, not only about themselves but about other people too," says sophomore Alexandra McGarty, "We just want more protection of all the kids so we know that we're safe."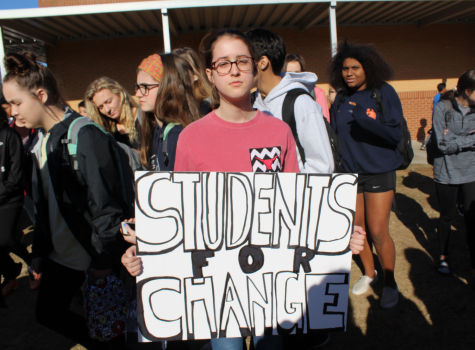 "[We're here] because students shouldn't have to be afraid to go to school, they shouldn't have to fear for their lives. We come here to have an education, and not to be threatened and killed," says Sophomore Cara Radosevich, holding up a sign she made herself.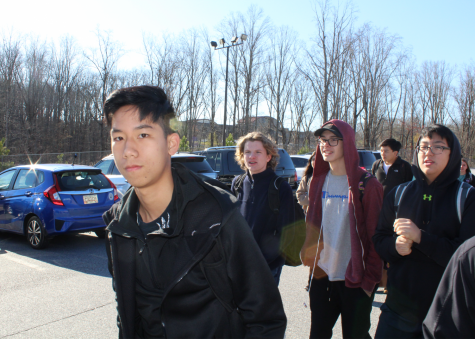 Winston Luo, a junior who is part of the Lambert band, said that he is "walking today because I'm in the band and for our district honor band, the band director of Parkland High School was actually our band director there and he was a great band director and he taught us very well. I'm here for him because I don't live in Florida, but I feel like this is the best way that I can connect with what he did and help his students and the band kids. The band did have some students that were lost."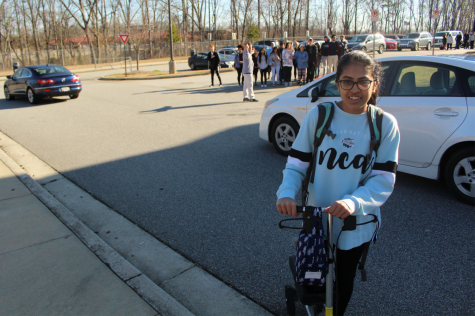 "I went to a camp in Florida and I have a lot of friends who went to that school," says Sanvi Kakkar, a freshman, "And it hit them really hard emotionally and a lot of their friends passed away. So I feel like its really important that its brought to the government obviously and everyone's noticed that and it's a serious thing and it's not going to happen again."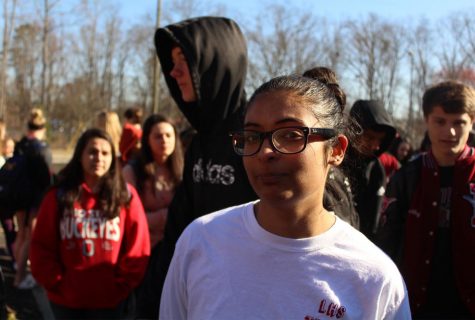 "I walked out because it's our safety we're fighting for. It can get past the government, the NRA, but I need to protect here. It's everybody's duty to protect themselves and the people they love, and we can't just come here for education and get shot up. That's why I'm out here today for all of you guys," says Simran Malhotra, a junior and a leader of the event. She spoke along with Noora Chandasir to commemorate the victims.
The actions taken by students yesterday are not the first nor the last that will be taken. Generation Z (usually considered those born after 2000) has not refrained from making sure that the conversation on gun laws has not diminished and that it will not do so until their voices are heard. No matter why students become involved in this movement, they have already shown that they are to be taken seriously until this conversation is no longer necessary. One may say what they will about a generation renowned for its technology use, existential nihilism, and love of dystopian movies, but one thing is for certain about them: they are a generation who will not hesitate in making their voice heard about the topics they are passionate about.
Leave a Comment
Donate to The Lambert Post
Your donation will help support The Lambert Post, Lambert High Schools student-run newspaper! Your contribution will allow us to purchase equipment and cover website hosting costs.