Principal Dr. Gary Davison Retires After 15 "Magical" Years of Leading Lambert
On December 14th, Dr. Gary Davison, Lambert High School's principal of 15 years, announced that he is retiring at the end of the 2022-23 school year. 
Davison has led Lambert since its establishment in 2008 to all of its current glory in 2023. Under Davison's guidance, Lambert has a 99% graduation rate and is ranked #1 in Forsyth County Public High Schools and #5 in Georgia. During his time, he built the school from the ground up, created a renowned atmosphere and showed full support to students and teachers in all he did. 
Before accepting the principal position at Lambert, Davison served as assistant principal at Dunwoody High School, Lakeside High School and Settles Bridge Elementary School. In 2003, he was promoted to principal of Settles Bridge, and in 2006, he took his administrative experience to South Forsyth High School after their principal left to open West Forsyth. 
While working at South, Davison received a call from the Forsyth County Superintendent, who offered him the opportunity to open a new school. At the time of the phone call, Davison and his family were grieving the loss of their son and didn't feel it was the right time to accept the offer. 
"She called me back a couple of months later, and I said no again, but then I had a chance to really think about it," Davison explained. "I ended up saying yes."
Opening Lambert was a unique opportunity for a myriad of reasons. Namely, Davison had the freedom to make Lambert everything he wanted. With no confinements except for the color of the building and its address, Dr. Davison had full control over the school's foundation and the culture he wanted to create. 
"This is the last school I ever want to be at," Davison said. "This is it. I want to do this right."
Envisioning a school based on experiential learning and relationships, Davison asked Athletic Director Drew Ferrer, English Department Chair Woody Vantreek and former science teacher Brittany Cantrell to be a part of the Lambert experience and help him with the planning process. 
"They were all in," Davison said. 
He also recruited a small group of students that would be attending Lambert after it opened to help him make decisions about the school.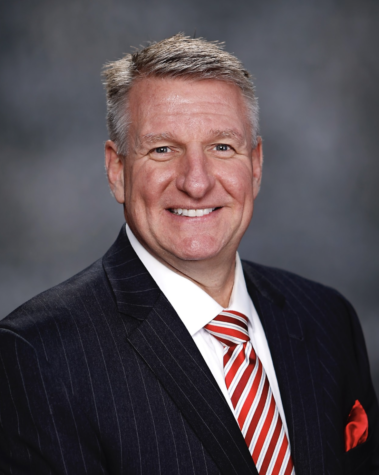 "They picked the color combination, and they made the crest," Davison explained. "The coolest part of all of this was being able to be a part of something where everyone got to be a part of it."
When Davison started at Lambert in 2009, Forsyth County schools lacked their current prestige. Even with this poor foundation, he envisioned the school performing with excellence in mind and being able to break records. He worked with Coach Ferrer to study the best schools in the country.
"We started modeling after them," Davison explained. "A piece here, a piece there, and we put it all together to make our own thing."
Soon after, Lambert began to accomplish athletic feats. Lambert High School made history by hosting two state championships for different sports on the same weekend. He expressed that one team went to playoffs, which was a big deal for the whole county. 
"I remember sitting right here, and I remember thinking, man, by the time we're all said and done it'd be great if we could win 10 championships," Davison said. "That was 40 championships ago."
From this point forward, Lambert began to build its reputation for having a well-rounded student body. 
 "It's really phenomenal to think about how successful our students have been not only in athletics, but we've got kids that are performing on Broadway and kids that are doctors and lawyers and everything you can imagine," Davison explained. "I could never have imagined that [Lambert] would be this successful and that our kids would be this successful. I really am humbled by the whole thing."
Aside from the record-breaking achievements, building Lambert to its current state was challenging. In the midst of a recession, Davison started Lambert's checking account with the $6 he had in his pocket. He was also restricted to hiring within Forsyth County, and at the time, there were only a few high schools, so Lambert opened with 18 elementary school teachers.
As time progressed, the challenges became less economical and more about bettering the school. Accordingly, Lambert implemented a revolutionary concept: Lunch & Learn.
"Our biggest challenge is trying to be better every year," Davison said. 
Davison has been conscientious about not introducing too many changes too fast. He values taking time to do things well instead of introducing immediate changes. One example is Lambert's culinary arts program. 
"We opened our building with the Culinary Arts lab, but we didn't have a teacher for the first three years," Davison explained. "That's a million-dollar program I didn't hire a teacher for because I was waiting for the right person."
Lambert's invaluable administrative training produces what Davison refers to as a "good challenge." 22 former Lambert staff members are now principals or working at the county level. While it reflects Lambert's prestige and reputation, Davison expressed that handling staff turnover has been challenging.
"It's a good thing, but it's also a challenge because you always have to find new people," Davison said. "It's a good problem to have."
After he retires, Davison's biggest concern for future Lambert students is preparing them for jobs that have yet to be invented. 
"What's going to be imperative moving forward is students preparing themselves for a skillset," Davison explained. "And then as jobs come up, students can say, 'I'm a set of skills, I can do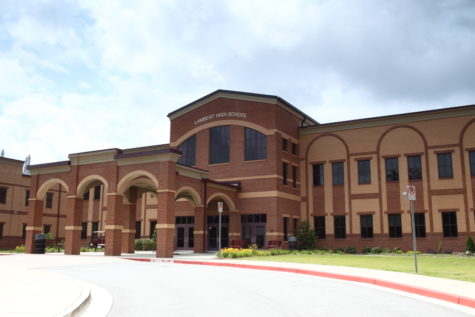 these things. Now which of these jobs do I want to apply these skills to?'"
In his decade and a half of experience, Davison's biggest takeaway is the skill of innovation. As a principal, being innovative is challenging because it can result in immediate ramifications for the students. However, if planned carefully, being innovative can create dramatic changes for a school.
"We were always innovative," Dr. D said. "We knew what we wanted, and we were going to figure out how to get there."
Lambert's Triple Crown Award reflects an example of his innovative mindset. This distinction came to fruition when Davison wanted to recognize the rocketry team for practicing year-round, competing against other schools and bringing home trophies. Davison wanted clubs at this level to be able to letter, and the coveted Triple Crown Award was born.
Davison summarized his 15 years as principal of Lambert High School into one word: magical.
"I never imagined it would turn out like this," Davison said. "I always had a picture in my head of what I wanted, and we surpassed that about six years ago. It's been magical for me professionally, personally and my family too."
Compared to Dr. Davison's commitment to Lambert for the past 15 years, the average lifespan of a principal is two to three years before they move on to their next leadership position. He expressed that the students have made it difficult for him to leave, but it feels like it's the right time to close this chapter of his career. 
Post-retirement, Dr. Davison plans to open a leadership consulting company to advise new administrators. He aspires to be a published author and will continue to live in Forsyth County as his connections are most important to him. 
"Did it change me or did I change it?" Davison said. "I think it was both. Lambert was the chance to build a school in what I feel is the right way. And that changed me."
Donate to The Lambert Post
Your donation will help support The Lambert Post, Lambert High Schools student-run newspaper! Your contribution will allow us to purchase equipment and cover website hosting costs.