From Serving 330 Students To Serving 54,000: Dr. Bearden and His Rise To Leadership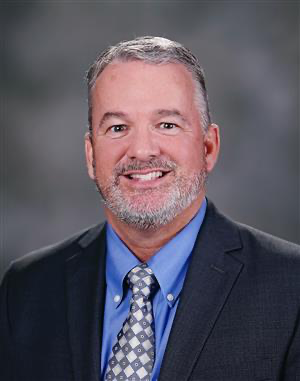 Dr. Bearden is serving his 31st year in educational leadership and his 9th year as superintendent of Forsyth County Schools, serving almost 54,000 students in 42 schools. 
Bearden started out as a 7th grade English Language Arts and girls' basketball coach about 33 years ago. The thought of working in administration never even crossed his mind until his county's superintendent saw leadership qualities in him. 
"If you had asked me 30 years ago, what I would be doing today, I would have told you, 'I'm going to be coaching and teaching,' because I absolutely loved it," Bearden said. "I loved the relationship I established with students…it was such a fulfilling career."
He expressed that his superintendent encouraged him to go back to school for a leadership degree. Because of the impact this experience had on his life, he now sees the same values in teachers and encourages them in the same way that his first superintendent did. 
Bearden's first job as a superintendent was in a rural part of Maine where he presided over 330 students: a stark contrast from Forsyth's tens of thousands of students as the school system was very small, he lacked the personnel needed to carry out the county's functions, so he was involved at the school and county level, learning to be flexible and resourceful. 
"Being a superintendent on a small system like that, you'll learn just as much doing that, as if you were a high school principal," Bearden said. "I really was very involved in the day to day operations of that tiny little school, but yet, at the same time, involved in the district operations as well…it was a great experience for a young administrator."
After working for such a small school system, Bearden took his skills to a couple other superintendent positions and ended up moving from Maine to Georgia where he worked in Fayette county. 
Forsyth County is one of the fastest growing counties in the United States and has been on an upward trend for over the past decade. While working in Fayette county, Forsyth caught Dr. Bearden's eye as it was the first school district in Georgia to allow students to bring personal devices to school. 
"I'll never forget when I left [Forsyth], kind of in the back of my mind, I said, 'if that superintendent job ever opens up, I think I would be interested,' because I was super impressed with what I saw that day," Bearden said.
When his aspirations came to fruition, he decided to set goals for the county to increase the already above average graduation rate. For the years preceding Dr. Bearden's arrival to administration, the graduation average graduation rate was close to 90%. For the past three years, the graduation rate has been above 96% percent in Forsyth County Schools. 
Bearden attributes this consistently high graduation rate to the availability of options to students. A prime example of this idea is Alliance Academy, a school with specifically targeted career pathways, that has a 100% graduation rate. Other options include Georgia Virtual School and Forsyth Virtual Academy as ways for students to obtain the necessary credits to graduate in ways that meet their needs.
"And I think that the key to having increased graduation rates is giving students a lot of different choices so that they can find their niche, find their passion and stay engaged in school," Bearden said.
In addition to a variety of choices available to students, Bearden believes that principals need to take it "one student at a time" and to make sure that every student feels a sense of purpose and belonging in their school. The combination of a variety of options available to students and making it a point to instill a sense of belonging in students creates a high graduation rate.
Bearden is involved in almost every aspect of the county's functions. Serving 42 schools, he makes an effort to visit every school at least once throughout the school year as it is his favorite part of his job. 
"I just like giving our principals and leadership teams and teachers and students an opportunity to kind of showcase what they're proud of at their school," Bearden said.
Forsyth county is the 8th largest county in Georgia with over 245,000 residents. Spanning 247 miles, the county homes plenty of different populations that each school serves differently. The difference in demographics makes each school starkly different and unique from each other. When Bearden sees these differences in each school he visits, he knows that it's because the schools are doing their jobs to serve that subsect of the population and their needs.
"I would tell anybody wanting to move to Forsyth County, …'don't worry about where your child goes to school, find out where you want to live, and I guarantee your child's going to a good school,'" Bearden said. "Not every I don't think every superintendent in the country can make that statement."
Donate to The Lambert Post
Your donation will help support The Lambert Post, Lambert High Schools student-run newspaper! Your contribution will allow us to purchase equipment and cover website hosting costs.