AP Exam Season 2022: Here's What You Need to Know
"AP Exams are standardized exams designed to measure how well you've mastered the content and skills of a specific AP course," collegeboard.org reports.
The dreaded, cumulative tests for Advanced Placement (AP) courses are approaching quickly. Most of the exams are 2-3 hours long with a multiple-choice section first, followed by a free-response section. The 2022 AP Exams will be administered in schools as paper-and-pencil exams over two weeks in May: May 2–6 and May 9–13. Here is the schedule for Lambert students: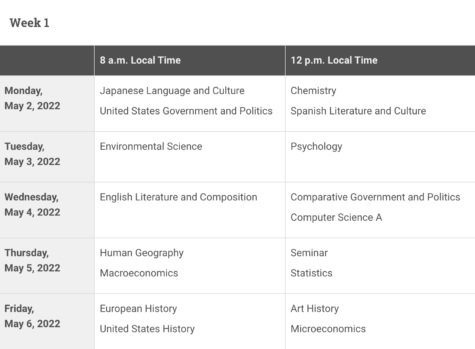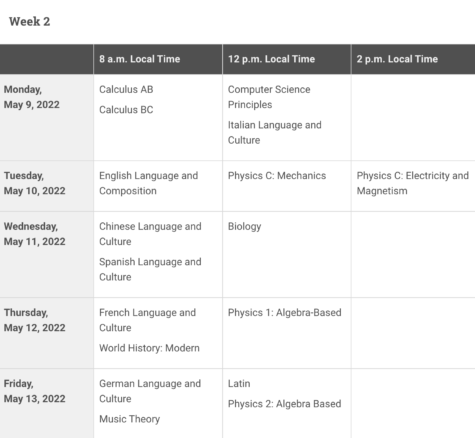 It's important to note that Week 1 of AP Exams will be a virtual week at Lambert High School due to End-of-Course Exams being administered the same week. May 2–6 will be an Odd/Even/Odd/Even/8-Period week. Week 2 of AP Exams will not be a virtual week at Lambert. Consequently, students with exams during May 9–13 will be exempt from their classes. May 9–13 is also the week of Senior Finals and will follow an 8-Period schedule every day. 
The total scores from the free-response section and the multiple-choice section are combined to form a composite score. The final score for each AP Exam is reported on a 5-point scale that offers a recommendation about how qualified a student is to receive college credit and placement. However, each college makes its own decisions about what scores it will grant credit or placement for. The scores are outlined below:
A 1 is considered failing and receives no recommendation.

A 2 is possible given a recommendation and translates to a D letter grade. 

A 3 is passing and is considered qualified. It translates to a B-, C+, or C. 

A 4 is considered qualified and translates to an A-, B+, or B.

A 5 is the highest grade a student can receive. It is considered extremely well qualified and translates to an A+ or A.
To ensure success on the AP Exams, preparation is crucial. The College Board recommends starting by consulting your AP teacher about the format of the exam. From there, students should take advantage of AP Classroom resources. 
"AP Classroom is a suite of digital tools that teachers can use throughout the year to help you prepare for the AP Exam," collegeboard.org explains.
AP Classroom offers progress checks with multiple-choice and free-response questions for students to receive personalized feedback on the skills and topics in the course. The site posts AP Daily videos that cover all course content and skills to help support students' learning. Teachers can also assign AP practice or released exam questions using the AP Question Bank. 
Commercial review books are another option for AP Exam review, however, they are controversial study tools among AP teachers because they are often outdated and contain information no longer on exams. 
Regardless of which preparation route you choose, the most important aspect of studying is active engagement. To perform well on year-long exams, it's vital to target difficult, hard-to-remember topics rather than topics you already know. If studying isn't uncomfortable, you're not studying right. 
"A shock that came to me last year was the quick turnaround time between spring break and AP Exam week," junior Catie Barrett said. "I thought I had more time, but before I got back into the groove of school, I was staring at the exam."
Many students find a personalized review schedule to be extremely helpful. Especially for students taking more than one exam, distributing study sessions over the course of a few weeks is imperative to studying effectively. If you don't want to make your own schedule, there are many websites with suggested study plans. 
Gabbie Panguito, a junior at Lambert, has taken several AP Exams throughout her high school career thus far.
"My best advice to underclassmen is to start studying soon and relax the week of the exam," Panguito said. "So many people cram the week before, but as you start to take more AP classes, you'll realize that it quickly becomes overwhelming. Start studying right now, and don't stress yourself out over your score. In the end, whether you get a 1 or a 5, it won't make or break you."
When you're taking the exam, pace yourself, maintain positive self-talk and answer every question because there's no penalty for guessing. AP Exams can be stressful, but don't be intimidated. Remember, your scores have no effect on your GPA, and college credit is helpful, but not necessary. 
Leave a Comment
Donate to The Lambert Post
Your donation will help support The Lambert Post, Lambert High Schools student-run newspaper! Your contribution will allow us to purchase equipment and cover website hosting costs.