Reasons to live by The Lambert Project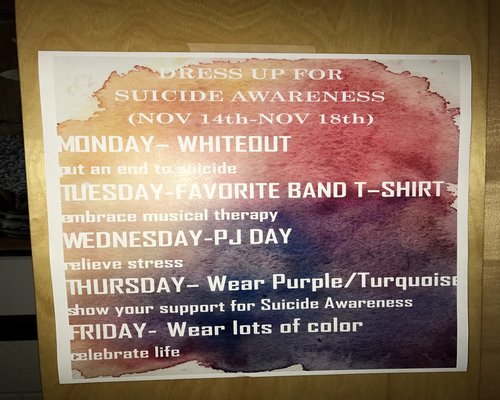 For the month of November, The Lambert Project, a group of students who have all faced their own hardships with racism, religion, or sexuality, is highlighting suicide awareness month, as well as mental illness month. On average, almost 30,000 Americans commit suicide every year. Suicide is the 3rd leading cause of death for people ages 15 to 24 and 2nd for ages 24 to 35 year-olds.
Members of The Lambert Project, along with the members of collaborating Will to Live club, a club that works to raise the awareness of teen suicide, are recognizing the reoccurring issues of bullying, self acceptance, and stress relief that students at Lambert and in the larger society face. The animated poem, "To This Day" by Shane Koyczan, an award winning spoken word poet and author, will be featured in literature classes, along with discussion questions to go with the video. Displayed in the main hallway, a "To This Day" board will showcase a collection of notecards written by students depicting demeaning words that have stuck with them throughout their lives.
The club had one final meeting on Thursday, November 10 to finalize plans and laminate notecards for the "To This Day" board. Some members from the Will to Live club also came to share ideas on collaboration for future projects.
The Lambert Project's theme for November is "Reasons to Live," where students are able to interact and contribute to the list of reasons to live. To tie into the matter,  students are encouraged to dress up each day during the week of November 14-18 to relate to the theme of raising recognition for suicide.
On Monday, there will be a whiteout for suicide, where students will wear white to show solidarity and harmony for those with suicidal thoughts. According the Medical News Today, nearly all completed suicides are from individuals who have a mental illness.
Tuesday, the school will dress up as musicians or wear band shirts to identify the remedial impact of music for those in anguish from suicidal speculation due to mental illness. Teachers are also encouraged to play music during class.
Wednesday is PJ day, a day devoted to decreasing stress levels, which is a huge factor surrounding suicidal tendencies. Stress is a term that is usually associated with negative life experiences. These somber life events often lead to risk for depression and suicidal thoughts and behavior.
Thursday is spirit day; the school will wear purple to show support for the LGBT+ community who have committed suicide because of intolerance. The rate of suicide attempts for LGBT+ youth is four times greater than that of straight youth. 
Friday, the school will dress in vibrant, cheerful colors to display that the world does not have to be a completely dark place to be. It will be a 'celebration of life' to show somethings are worth living for.
The mission of The Lambert Project is "to unite the people of Lambert and find strength in our differences." Join these members next week by showing your school spirit, dressing up, and being there for students with suicidal thoughts.