Take a Dip of Faith
Amid the rather recent sauce shortage amongst various Chick-fil-A's across the United States, it has become apparent that now more than ever, choosing the best dipping sauce is of utmost importance. Without the luxury of ordering handfuls of sauces for taste testing, many customers have most likely fallen back onto the regular frontrunners such as Chick-fil-A Sauce and Polynesian Sauce, no longer able to take risks with other flavors. So since "trial runs" for other sauces are currently unavailable, it is my honor to provide a guide pertaining to the top three most underrated Chick-fil-A sauces. This guide is meant to allow customers yearning to venture into new territories, a no-risk circumstance because everything regarding the sauces will be right here for reference. I hope my knowledge will allow you to avoid the many disappointing and distasteful experiences that sometimes take place when ditching your regular favorites!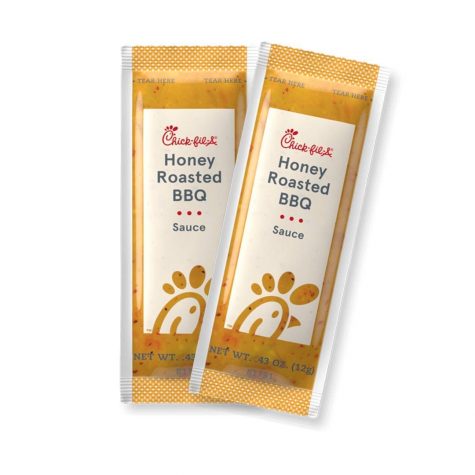 Honey Roasted Barbeque is not a sauce in constant conversation with Chick-fil-A regulars. Unless you are one of the few who happened to stumble upon it one day at the restaurant or noticed it online, the dipping sauce is enjoyed by few. Although sometimes even the employees are unaware of the sauce, (many times the employees will give me the individual Honey Mustard and Barbeque dipping sauces instead) asking for "Honey Barbeque" will usually allow you to get your hands on the delicacy. As far as taste goes, Honey Roasted Barbeque is a sauce specifically made for those who love Chick Fil A Sauce and creamy textures. Even though the packet may appear to look very similar to Zaxby's "Zax Sauce," the flavors could not be more different. Enjoyed best with a Chick-fil-A sandwich, nuggets or fries, the sauce is absolutely dynamic and certainly should be included in your regular sauce selections!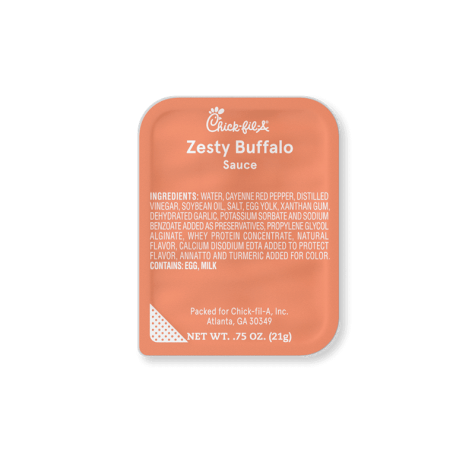 Now the Zesty Buffalo Sauce can be considered more of a gamble as opposed to the Honey Roasted Barbeque suggestion. More targeted towards those who have a particular love for spice, the Zesty Buffalo sauce embodies the same flavor experiences that every classic wing restaurant such as "Taco Mac" brings to the table. With a more liquidy texture, the sauce is definitely not one to over-dunk. Usually saturating your nuggets in your chosen sauce heightens your flavor experience, but this sauce runs the risk of completely demolishing your taste buds. Whilst many prefer to pair Zesty Buffalo with a more cooling sauce such as Chick-fil-A Sauce, I recommend if you want to go solo with the dip, to use it when eating regular chicken sandwiches and chicken tenders specifically!  
Sweet and Spicy Sriracha Sauce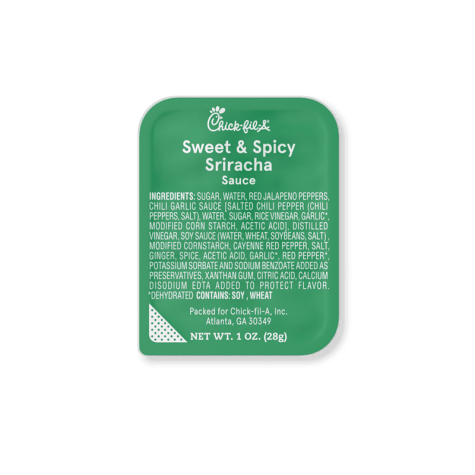 Alike the other two suggestions, the Sweet and Spicy Sriracha Sauce is hardly ever ordered. With its eerie dark green lid, the sauce can seem rather questionable as opposed to a safer choice like Garden Herb Ranch Sauce. But not to worry, for those that always reach for the Tabasco sauce with their eggs, this dipping sauce can completely elevate your breakfast experience. Acting as almost a mix between Polynesian Sauce and the spice featured in Zesty Buffalo Sauce, the Sweet and Spicy Sriracha blend is sure to keep your taste buds alert and give your chicken biscuits and various other breakfast sandwiches the kick they need. I would recommend dipping some hashbrowns and fries in the mixture as well! 
Although quite intimidating, these three selections can provide you with an all-new and encompassing Chick-fil-A experience! If the Spicy Chicken sandwich doesn't have enough kick for you or the Chick-fil-A Sauce is starting to taste more like mayonnaise than anything else, take a break from those choices and venture over to the more oddball and certainly underrated Chick-fil-A flavors! 
Leave a Comment
Donate to The Lambert Post
Your donation will help support The Lambert Post, Lambert High Schools student-run newspaper! Your contribution will allow us to purchase equipment and cover website hosting costs.