2022 Dunkin Donuts and Starbucks Seasonal Items Review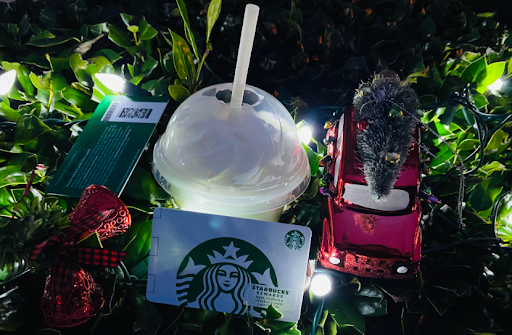 It's mid-December. Lambert students are frantically turning in assignments, submitting college applications and studying for the end-of-semester tests. On top of that, this month has been filled with rainy days, coughs and sneezes. With all of this chaos, it is easy for the winter season to pass us by, but we have come this far and deserve a well-needed break. We must enjoy winter's gift: delicious seasonal drinks and desserts. 
Next time you take that study break, go out with your friends and try something new. Have your friend surprise you with a drink and guess the ingredients. Rate the drink. Laugh and wind down.
I recently went out and tried a few drinks and desserts from Dunkin' Donuts and Starbucks. Down below are my factual opinions and recommendations. 
DUNKIN' DONUTS: 
Could be a Better Donut: The Cookie Butter Donut
I am addicted to sugar. Sometimes I take packs of sugar from LBCO as a snack. So when I say this donut is too sweet, I mean it. The classic yeast donut was coated with maple frosting and filled with more maple frosting. I could only eat a fourth of the donut. However, if you are a maple syrup fiend, I bet you will enjoy it because the donut tastes like a jug of Aunt Jemima's syrup. 
The donut was also topped with Bischoff-like cookies. I hate Bischoff, but I appreciated  the balance of the crunch of the cookie and the chewiness of the freshly baked donut. Clearly, Dunkin' had a vision but did not execute it well. There was no balance to the maple flavor, there was too much sugar and too many elements. 
Buy this donut. Not for gustatory enjoyment, but just to see how correct I am.
Cookie Butter Again: Cookie Butter Cold Brew
This coffee was noticeably more watery than any black coffee I have had before. The fluffy, creamy cookie butter foam was a necessary complement to the flavor-lacking brew. The foam was reasonably sugary and tasted like melted butterscotch and caramel candies. I would not get this again, but it could be a nice change of pace and a fun review for an avid coffee drinker. 
STARBUCKS:
I Would Have Left him out of the Reindeer Games, Too: The Rudolph Cake Pop
I remember in elementary school, cake pops were all the rage. I guess that, since all the hype went down, so did the quality. This cake pop was disgusting. The vanilla cake interior was terribly mushy like it was made in an Easy-Bake oven. The cake was covered with an unbearable, thick layer of overly sweet white chocolate. I was surprised! I thought this brown cake pop would have a milk chocolate element. Starbucks failed me on this one. I did not expect this beautifully crafted, cute cake pop to make me sick. I do not recommend this cake pop, but if you want to get it, use a gift card or have someone buy it for you. Do not waste your own money.
Chestnuts Roasting on an Open Fire: Chestnut Praline Latte
This drink was simple. Even though there are seasonal spices in the drink, they are not overbearing. The milkiness of the drink washed away the strength of the spices and made the drink refreshing. Like the Caramel Brulee Latte in my review last year, you could easily make this drink at home. This latte tastes like milk mixed with coffee mate hazelnut creamer. This option is a safe choice. It is not special, and it is not horrible. It is simply a good drink. If you find five dollars in your pocket, you could use it on this.
All Bark and No Bite: Peppermint Mocha
I am not a chocolate and peppermint enthusiast, but this was my favorite drink. One sip of this warm peppermint mocha melted away my midterm stress. Besides that sorry excuse for a cake pop, Starbucks has quality. The mocha was strong but subtle, and the hint of peppermint was a nice reminder that it was winter time. The whipped cream was thick and fluffy, a wonderfully creamy element to the refined drink. It tasted like a blended piece of peppermint bark. Bits of candy canes would have been a decadent inclusion, but I trust that Starbucks made a calculated, rational decision to exclude a crunchy aspect. You should definitely try this drink.
I hope these reviews were helpful. Thank you to all of the people who made and gave me my items. If you decide to try one of these drinks or foods, leave a comment and let the Longhorn community know what you think.
Donate to The Lambert Post
Your donation will help support The Lambert Post, Lambert High Schools student-run newspaper! Your contribution will allow us to purchase equipment and cover website hosting costs.