Our Take on Starbucks and Dunkin Donuts Seasonal Drinks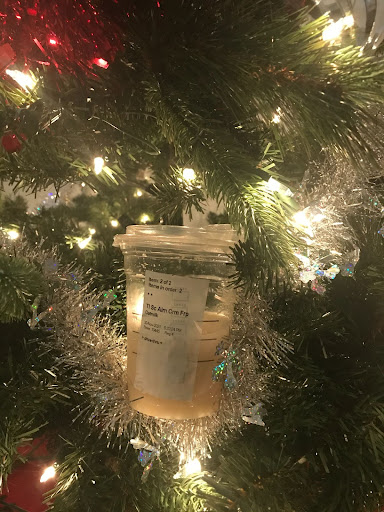 Even though winter officially starts a week before the year ends, when December is here, so is the winter cheer. Along with holidays and decorations, there are delicious seasonal drinks on many food chain's menus. Whether you are studying for your midterms, stressing about school or excitedly waiting for break to start, you deserve to relax and have a nice treat. 
Recently, I went out and tried various drinks from Dunkin Donuts and Starbucks. Down below are my classmate's seasonal drink recommendations.
Dunkin Donut:
Toasted White Chocolate Latte
New coffee lovers, this is the drink for you! The Toasted White Chocolate Latte has a simple, yet rich espresso flavor. The cinnamon gives you a quick remembrance of fall, and the white chocolate flavor is prominent, but not overwhelming. I was afraid that this donut shop's coffee wouldn't be that great, but they executed it beautifully.
I would love to drink this again outside on a cold winter day, to really experience the winter ambiance. 
White Mocha Hot Chocolate
Calling all lovers of combining flavors! In this drink, you have a classic childhood hot chocolate mixed with a fancy, mature coffee flavor. This item is creamy and smooth with a subtle hint of white chocolate. The dash of the espresso also adds to the delectable flavor. Even though I like this drink, I believe McDonald's version of the White Mocha Hot chocolate is more velvety.
This drink is tasty and reasonably priced; I recommend that you try this drink.
This drink tastes like melted peppermint bark topped, and it's served with a generous dollop of whipped cream. It's piping hot during this terribly cold winter season. I did not like it though and would not get it again. I have never really been a big fan of mixing peppermint in chocolate. I like York patty peppermints, but when it comes to the liquid form of it, I am running away. Even though I am biased against this drink, I was still able to notice the flavors. The peppermint flavor does not shy away and the drink was palatable even to me. 
Because of how the chocolate and peppermint perfectly complemented one another, I would recommend this drink to peppermint lovers and even open-minded, non-peppermint lovers like myself. 
Starbucks: 
Lambert Junior, Martha Mwangi and I made our way down to The Collections to try some good ol' Barnes and Nobles Starbucks. For our Sugar Cookie Almond Frappuccino, we substituted the Almond with Oat milk instead. I thought the drink was pretty good, but my interviewee had a lot to say about this altered drink.
Because Martha doesn't like the idea of a cold drink during winter, oat milk, and does not typically drink seasonal drinks, I was surprised by her reaction.
"This is actually pretty good," Martha exclaimed. 
Though after a few more sips, she had a few more comments to make,
"To be honest, it kind of just tastes like coffee with red and green sprinkles on it," Martha described.
She also explained that though the sugar cookie flavor was there, it was faint and tasted like caramel.
"During the summer it would taste better," Martha said. "I don't exactly know why it's seasonal in winter."
Her explanation for not wanting to get it again made a lot of sense,
"The drink is cold, and it's cold outside, so now I'm even colder and it doesn't taste seasonal at all," Martha stated. 
Though, Martha did later on explain that if you like drinking cold drinks during cold temperatures, it is worth it because she did find it to be pretty tasty.
Her overall message to Starbucks was short and simple
"Do better"
I was honestly disappointed. This latte tasted like something I could have made at home by making a regular coffee and squeezing Hershey's caramel ice cream sauce into the warm drink. It was warm when served to me and it did not pack a lot of flavor. You could taste the caramel, but I could not taste the "Brulee (burnt sugar)" part of it. Now, the drink did not taste bad, but it was quite lackluster. Additionally,  like the Sugar Cookie Frappuccino, it wasn't very seasonal. 
To get more views on this drink, I interviewed senior, Zain Joudeh. 
"This is not seasonal..it just tastes like a caramel latte," Zain agreed. 
Though it lacked this aspect, Zain, unlike me, truly enjoyed this drink. She explained to me that this was partially because she is a caramel fanatic and found the drink to be a nice warm temperature. 
"I would buy this again," Zain concluded.
Now Starbucks, if you want the title of a seasonal drink, add seasonal flavors!  You can't just slap some extra words and put it on the winter menu in green and red cups and call it seasonal. In my opinion, the drinks are of high quality but lack that major component.
I hope these reviews were helpful. Thank you to all of the people, some Lambert students actually, who served me my drink. In conclusion, before the holiday season comes to an end, you must try one of these drinks. If you decide to, leave a comment and let the Longhorns know what you think about a certain seasonal drink.
Leave a Comment
Donate to The Lambert Post
Your donation will help support The Lambert Post, Lambert High Schools student-run newspaper! Your contribution will allow us to purchase equipment and cover website hosting costs.