Goodbye Lambert's Lasso Lounge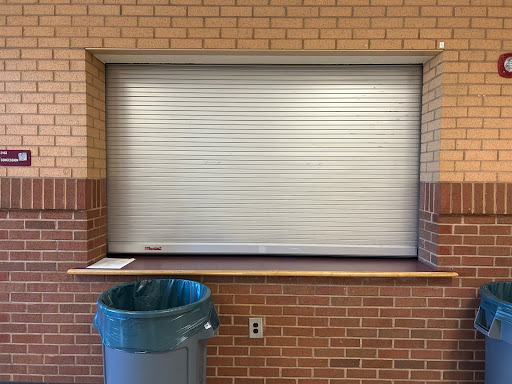 The Lasso Lounge was regularly packed with hungry Lambert students and teachers alike. It was a luxury that consistently served the Longhorn community. From snagging candy for a couple of bucks to cheap ramen, getting a bite at the Lounge was convenient and reliable.
As of September 22nd, the sound of cheerful students lining up for the concession stand is nonexistent. Lambert's Lasso Lounge is permanently closed. 
Junior Armaan Bhasin was a routine customer at the Lasso Lounge.
"I started to buy snacks during 10th grade," Bhasin explained. "It was great when school food that day was really bad."
This decision has left many wondering why the Lasso Lounge was permanently closed. The ABC Board informed former volunteers via email. 
"We were informed that the foods we offer for our fundraiser must only include smart snacks due to Federal and County regulations," the ABC Board wrote. "We did not have enough smart options to remain open and profitable."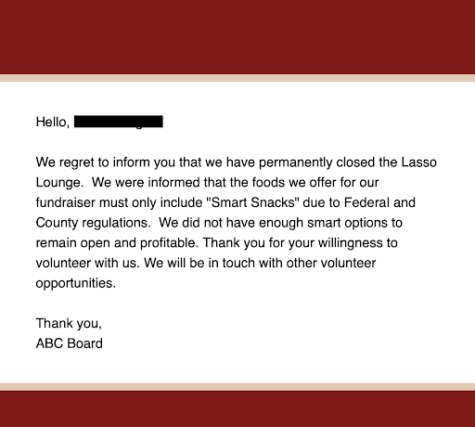 Due to Federal and County regulations, "smart snacks" are the only option now. A smart snack is a term for the healthier versions of popular junk food, often having reduced fat.
"Don't shut down a store simply because they don't have healthy options," Bhasin expressed.
Implementing smart snacks presents the question: Who in the Lambert community would purchase bland-tasting smart snacks over sweet and enjoyable traditional snacks?
The answer is almost no one.
"Smart foods will never be successful," Bhasin remarked. "There's a reason that Key Club doesn't sell carrots."
Lambert students collectively purchase hundreds of school lunches a day. More often than not, however, students buy school lunches for the snack included. This means hundreds of fruits and vegetables are obliviously flung into the trash every day. The reality is most students don't care about the nutritional value of their food. The lack of interest in "smart" foods ultimately wastes more than when typical unhealthy snacks are offered. 
The ABC Board needs to re-evaluate its decision to replace original snacks with smart snacks in the Lasso Lounge. Instead of full elimination, a limited amount of junk food that a student can purchase will endorse healthier choices while also allowing the snacks that everyone enjoys. 
Donate to The Lambert Post
Your donation will help support The Lambert Post, Lambert High Schools student-run newspaper! Your contribution will allow us to purchase equipment and cover website hosting costs.