State of the Union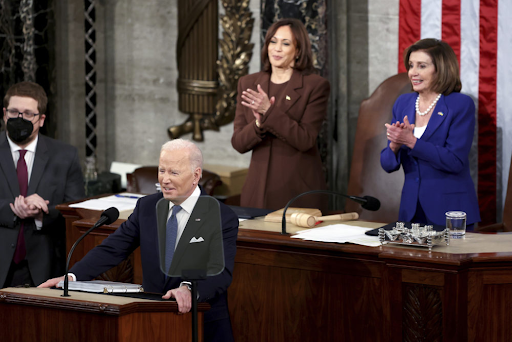 On Tuesday, March 1, 2022 President Joe Biden gave his first State Of the Union address at the U.S Capital. His speech lasted about an hour and Congress and other notable guests were present as well, including Ukraine's ambassador to the United States, Oksana Markarova.
The first point and certainly most prevalent moment was the United States' response to the war in Ukraine.
"When dictators do not pay a price for their aggression they cause more chaos," President Biden made clear.
Biden also condemned the actions of Russia and explained the United States' stance in this war. He made it clear that America would only involve themselves if NATO nations were impacted, but Ukraine is not part of NATO. Additionally, Biden sent U.S. troops to Poland as a precaution.
" We are giving more than $1 billion in direct assistance to Ukraine," Biden noted.
The President also touted the sanctions against Russian oligarchs and the impact the U.S has made against the Russian economy, as well as taming the economy and inflation caused by the war at home. As a positive effort, Biden proposed raising the national minimum wage to $15 an hour to help tackle poverty and give people a living wage.
Conversely, there was no mention of relieving student loan debt, once a key objective of Biden's 2020 election campaign. His failure to acknowledge this past promise was disappointing, as the price of college continues to increase and leaves Americans paying for an education for years on end after graduating.
"I thought that Biden's State of the Union Address was interesting," Justin Hwang, a Lambert freshman, said "I saw that he discussed the conflict in Ukraine which I expected to be addressed. In the end, I think that the conflict was the biggest takeaway from his speech and probably the most important thing to address."
This point of view I'm sure could be shared by most: the war in Ukraine surely is a pressing and relevant issue and therefore carries a lot of weight during this time.
I also asked if there was anything that would have perhaps been missing from the State of the Union Address.
"I didn't have anything in mind that I would have wished the president to have addressed in his speech," Justin replied.
However, I did see how multiple people were "complaining" and mentioning how Biden didn't talk about the U.S.'s withdrawal from Afghanistan. Everyone has their own point of view of what they think Biden should have talked about, and there is an endless list of things that individuals would have wished Biden would have talked about. In the end, he addressed important things like the Ukraine conflict which I think was necessary and expected.
I agree with Justin. The military withdrawal from Afghanistan is certainly going to be part of President Biden's legacy. At least acknowledging those who served or lost their lives trying to get out of the country would've appeased those who say Biden chooses to ignore the event.
Another student, who wished to stay anonymous, talked about the role the president plays in the modern world and its affairs.
"Nowadays when they pick presidents, we pick based on the lesser evil when we should be voting for the greater good," they expressed. Relating it back to the State of The Union address, they expressed slight concern about whether the words spoken by the president would turn into any substantial action.
They also discussed Biden's presidency, and how, in their opinion, has failed thus far to help "regular people", but they remain optimistic about the future.
Overall, President Biden's State of the Union address was the right speech at the right time. It shed light on how the situation in Ukraine, its impact on America and finding a way to combat inflation. Who knows if objectives such as a $15 minimum wage and student loan debt forgiveness are ever going to come to fruition, or if the war in Ukraine will be resolved soon? Surely only time will tell.
Leave a Comment
Donate to The Lambert Post
Your donation will help support The Lambert Post, Lambert High Schools student-run newspaper! Your contribution will allow us to purchase equipment and cover website hosting costs.