Tricking and Treating For All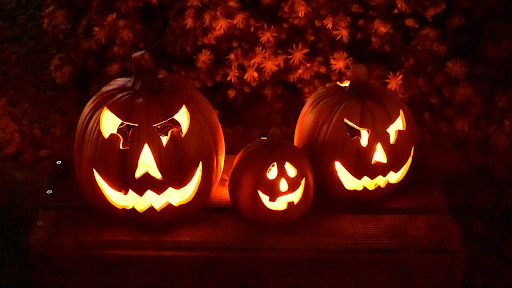 It's a chilly, dark, October night. Witches and zombies roam the street as screams rip through the air and the wind picks up.
Gotcha! It's just Halloween on a typical suburban street. It's a memorable night for most filled with fun and maybe a little too much candy.
From my perspective, we can never grow too old for celebrating Halloween or other holidays. It doesn't matter if you're 4, 16 or even 99; holidays and in this case Halloween, are great times to engage with friends and have some fun.
As we grow up, we become detached from these sorts of events as schedules fill up with school and sports. Here, we'll peek into some conversations I had with some students about what they're doing this holiday. 
To start my journey, I had a chat with freshman Jack Bruey, a student here at Lambert. He told me he is looking forward to trick or treating this year and that he's going as one of the guards from the Netflix series, "Squid Game." 
When I asked him why he's going, his reply was simple but sensible.
 "Because it's fun and I like candy," Jack told me.
His initial comment about going as one of the Squid Game guards intrigues me. It's not unusual to see the most popular figures of the time being worn as costumes every year, but "Squid Game" premiered barely a month ago, most likely leaving manufacturers scrambling to license and produce costumes for what's trending.
For another bite, I talked with freshman, Aiden Desmond.
 "It's fun and I get to hang out with my friends," Aiden said.
Similarly to Jack's quote, it exemplifies how even as high schoolers, Halloween is a great time to have fun and spend time with our friends outside of school.
On a final note, I talked to a multitude of people to see if they knew of anyone who disliked Halloween and if anyone would want to talk about it and explain their viewpoint. I'm not saying it's universally liked by all, but from what I've heard, most people enjoy the holiday and its spirit.
The feeling of Halloween to me is the start of fall as we move towards colder weather and the holidays where we spend time with friends and family. That's why I'm looking forward to trick or treating with a friend as we walk around the neighborhood, claiming all the candy we wish and I hope you all feel the same.
View Comments(1)
Donate to The Lambert Post
Your donation will help support The Lambert Post, Lambert High Schools student-run newspaper! Your contribution will allow us to purchase equipment and cover website hosting costs.