Are We Dreaming? Behind the Mask of YouTube Sensation "Dream"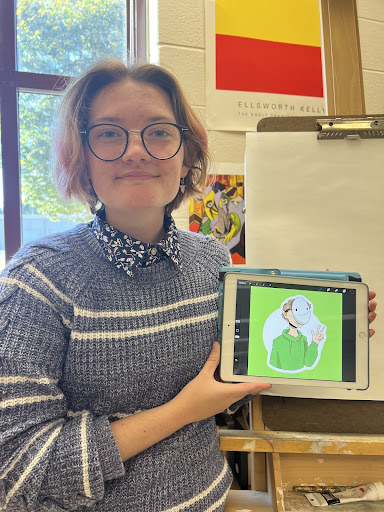 When the Minecraft Youtuber Dream announced his upcoming face reveal in 2022, his fans were ecstatic. After years of hiding his face behind a smiley-faced mask, Dream decided it was time for a new chapter in his life. His face reveal video, titled "Hi, I'm Dream," was trending on Youtube immediately after it was posted. Eager viewers around the world were finally able to see the face of one of the most popular Minecraft Youtubers in history. 
In his video, he discussed his plans to show his face, so he could meet the friends he's made throughout his career. Revealing his face to the world has created numerous new career opportunities. Now he hopes to create vlogs, reaction videos and more types of content that feature his face. 
Many people have speculated about what he had looked like prior to his reveal. Some were surprised to see his face as they had imagined him differently. Fanart of his character usually drew his mask for his face, but in the pieces that people did draw his face, they had to go off of the limited information they had of what he looked like.
Erin Bissonnette, a Lambert junior, has been a fan of Dream since he began his famous Minecraft SMP (Survival Multiplayer) server back in 2020. 
"It wasn't exactly what I was expecting, but the main thing was just- good for him; that's great!" Bissonnette said.
Despite this good news, the public has mixed feelings about his face. Some think that he is incredibly handsome, while others say that he is not good-looking at all.  As an influencer, Dream battles remarks like those from internet trolls or highly obsessed fans on the daily. Recently, people have been making memes of his face and saying that he should put the mask back on. Erin, like many of his other fans, does not believe that he deserves this hate.
"Man's been working like crazy hard for all of the time he's been on this platform," Bissonnette explained. "And it's … a really hard thing to do."
Soon after Dream posted his video, his friend and colleague, George, posted a vlog about finally moving to Florida to see Dream in person. Many other YouTubers also posted reaction videos of seeing Dream's face. 
"It's exciting for him to go in new directions," Erin said. 
Hopefully, Dream's new content overshadows the negativity that some fans have spread after his face reveal. Being an influencer with a huge platform has its downsides, and there have been thousands of hurtful comments about him online. These remarks do not bother Dream, though, as he combats these comments with humor to make even more content. 
With his face reveal, Dream can now pursue a variety of endeavors, and his fans cannot wait to see what he has planned ahead.
Donate to The Lambert Post
Your donation will help support The Lambert Post, Lambert High Schools student-run newspaper! Your contribution will allow us to purchase equipment and cover website hosting costs.