Lambert's Staggering Lacrosse Program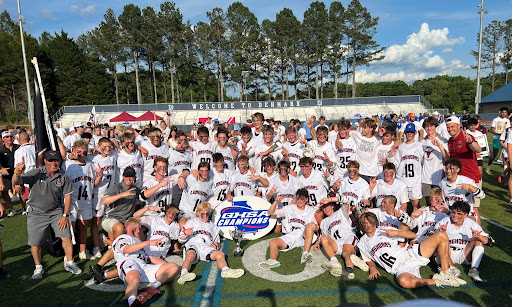 Lambert Lacrosse is no stranger to success. They hold six state championship wins with their most recent one being just last year (2011, 2012, 2016, 2018, 2021 and 2022). They hold 10 region championships, and in 2022, they finished with a 20-2 record and a state championship win.
The team's phenomenal track record (240-27) can be traced back to its inception in 2009. Over the years, Lambert's coaches and players have used each win and loss to constantly refine their performance on the field, consistently impressing both their fans and rivals alike.
Although the lacrosse season has just started, Lambert has already had a great start. They recently defeated Peachtree Ridge, their first game of this season, paving another road to success this year.
"[There is a] strong culture here and [we will] see how the season unfolds," Coach John Spaide said.
Last year's biggest rival was Roswell. This year, the team looks forward to competing against South Forsyth. Lambert will be playing against South Forsyth on March 27 and Buford on March 30. More information on the schedule can be found on the Lambert Lacrosse website.
In terms of this season, the ultimate goal is to compete in the state championship on May 12th.
Currently, the rosters are fresh. Although many are new to the program, the players each have their own talents and skills they can contribute to the table.
"[This year] we have a lot of young talent," Spaide explained. "A lot of kids were part of the state championship last year."
With the leadership of the coaches and experienced players, the community can expect a successful season this year.
At the end of the day, Lambert Lacrosse is a well-developed program that continuously exceeds the expectations of a high school lacrosse team. The community can look forward to another great performance from Lambert Lacrosse, so make sure to stay updated with their games and check out updated news on what goes on through their instagram.
Donate to The Lambert Post
Your donation will help support The Lambert Post, Lambert High Schools student-run newspaper! Your contribution will allow us to purchase equipment and cover website hosting costs.