FBLA emerges from State Leadership Conference bearing even more awards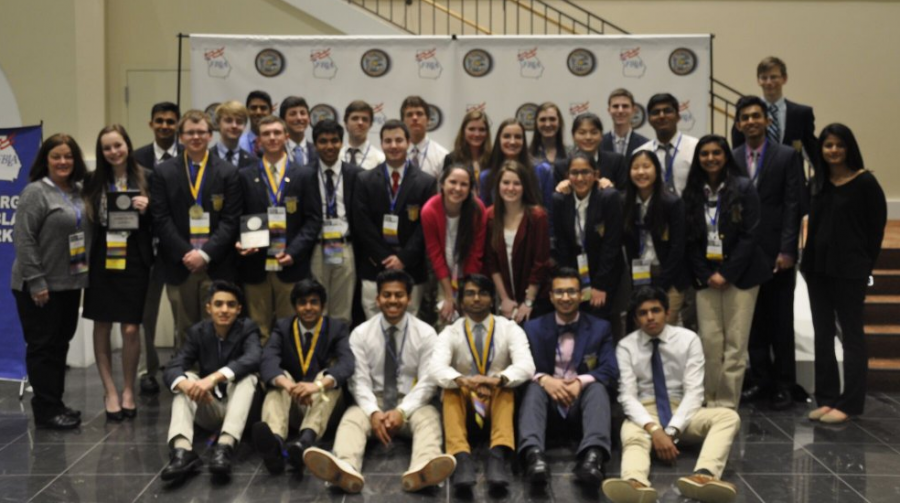 On March 6th, the Lambert FBLA (Future Business Leaders of America) ventured to the Georgia FBLA State Leadership Conference in Athens, Georgia. Georgia FBLA is the premier organization for Georgia's student leaders interested in business careers and is over 25,000 members strong.
The conference brought high school FBLA chapters together to compete in their competitive events programs and to attend workshops to enhance their understanding and skills for the facets of leadership and business. It lasted from Sunday March 6th, to Tuesday March 8th.
At the conference, the Lambert FBLA was awarded Largest Local Chapter ever in the history of Georgia FBLA. They also received a superior rating (Gold Chapter), and placed 10th for Chapter of the Year.
Member Royce Dickerson presented his campaign, "Roll With Royce", and it was so well received over the weekend, he was named the new Georgia FBLA State President for the 2016-2017 school year. Royce will be taking on this new executive role and represents Lambert High School, Forsyth County, and Georgia FBLA at state and national levels.
Another member, D J Barber, was named a Region Officer for Georgia FBLA Region 11 for the '16-17 school year.
Lambert FBLA earned a total of 33 medals in various events at the state level.  These names italicized are the students who will represent Lambert and Georgia FBLA at the next level: The National FBLA Leadership Conference in Atlanta, which will take place in June.
Follow Lambert FBLA on twitter
Learn more about Georgia FBLA at their official website
1st Place in Banking and Financial Systems
Shayan Merchant
Kahan Parekh 
1st Place in Hospitality Management
Lauren Mattingly
Mackenzie Morriessey
1st Place in Intro to Information Technology
Hunter Lee
2nd Place in Accounting II
Molly Williams
2nd Place in Management Information Systems
Sai Kilaru
Sayui Shaiith
3rd Place in Emerging Business Issues
Tina Qin
Cameron Reeves
3rd Place in Insurance and Risk Management
Jordan Baker
4th Place in Accounting II
Morgan Mauk
4th Place in Agribusiness
Maggie Baxter
5th Place in Business Financial Plan
Mehul Kumar
Gaurav Shah
5th Place in Entrepreneurship
Amitesh Chandra
Austin Ray
Mahima Siripurapu
5th Place in Management Decision Making
Jordan Baker (individual – super team)
Jung Choi
Royce Dickerson (individual – super team)
7th Place in Business Calculations
Hari Pingali
7th Place in Global Business (super team)
Hari Pingali
7th Place in Management Decision Making (super team)
Ishaan Bhasin
8th Place in Banking and Financial Systems
Lucca Nader
Brandon Thurmond
8th Place in Social Media Campaign
Alena Locurcio
Colin Masterson
9th Place in Business Law
D J Barber
9th Place in Cyber Security
Pranay Prathipati
9th Place in Public Speaking II
Siyu Gao
10th Place in Hospitality Management
D J Barber
Tyler Radtke