FBLA is all business as they sweep the competition for the region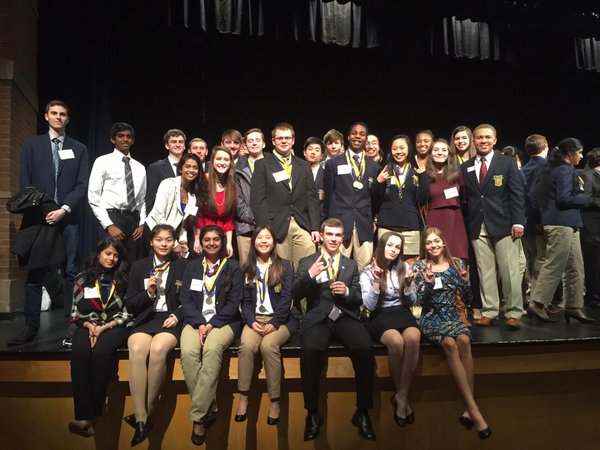 The Lambert FBLA, or Future Business Leaders of America, attended the Georgia FBLA Region 11 Leadership Conference last week, and claimed many accolades. The highly successful chapter at Lambert was awarded 3rd place in the region. They also walked away with 64 individual medals, the award for Largest Chapter Membership, and the chapter was a finalist for the State Monopoly Tournament. The chapter currently has 386 members.
Who is the FBLA? They are the largest and eldest national organization that serves as preparation for students wishing to acquire a career in business. The Georgia FBLA is currently the largest chapter in the nation. It has a membership of over 27,500 students. At the FBLA national level over 250,000 students participate. FBLA prepares each student by hosting conferences to support their development of leadership skills to use in the workplace. There are competitions for over 150 specialized business areas. Members compete at region levels in hopes to advance to state and eventually national levels. Find out more at the Georgia FBLA website.
Follow the Lambert FBLA on Twitter
Link to the header image here
Here's the full list of Lambert students who competed:
Accounting I
Stuart Reese – 11th
Banking & Financial Systems
Shayan Merchant (Team – 2nd Place)
Kahan Parekh
Lucca Nader (Team – 3rd Place)
Brandon Thurmond
Business Calculations
Hari Pingali – 1st
Tyler Radtke – 12th
D J Barber – 14th
Business Communication
Maddie Campbell – 4th
Lexie Batko – 8th
Tina Qin – 12th
Business Ethics
Gowri Krishnan (Team – 5th Place)
Erin Kim
Business Financial Plan
Mehul Kumar (Team – 1st Place)
Gaurav Shah
Economics
Taylor Lee – 8th
Abby Fox – 9th
Cameron Reaves – 10th
Emerging Business Issues
Tina Qin (Team – 4th Place)
Cameron Reaves
Entrepreneurship 
Amitesh Chandra (Team – 1st Place)
Austin Ray
Mahima Siripurapu
Trey Arnold (Team – 3rd Place)
Emerson Burd
Conrad McEvoy
Global Business
Hari Pingali (Team – 5th Place)
Pranay Prathipati
Chandan Yendamuri
Hospitality Management
Lauren Mattingly (Team – 1st Place)
Mackenzie Morrissey
D J Barber (Team – 3rd Place)
Tyler Radtke
Impromptu Speaking
Stone Parks – 5th
Intro to Business Communication
Emily Zhang – 14th
Intro to Business Presentation
Lucia Morris – 3rd
Intro to Financial Math
Serena Gao – 4th
Intro to Information Technology
Hunter Lee – 3rd
Jonathan He – 14th
Management Decision Making
Jordan Baker (Team – 1st Place)
Jung Choi
Royce Dickerson
Iresh Mandavia (Team – 3rd Place)
Ishaan Bhasin
Jithu Tirumala
Tyler Ray (Team – 4th Place)
Molly Williams
Management Information Systems
Sai Kilaru (Team – 1st Place)
Sayuj Shajith
David Lee (Team – 3rd Place)
Alexander Moldenhower
Nirai Mohankumar
Marketing
Royce Dickerson (Team – 4th Place)
Shea Murphy
Maggie Toland
Personal Finance
Kahan Parekh – 3rd
Dalia Aly – 15th
Public Speaking I
Kashish Kharbanda – 1st
Public Speaking II
Siyu Gao – 1st
Social Media Campaign
Alena Locurcio (Team – 3rd Place)
Colin Masterson
Drew Traldi
Sports & Entertainment Management
Brayden Segat (Team – 4th Place)
Srivishno Vaideeswaran