Home is where the court is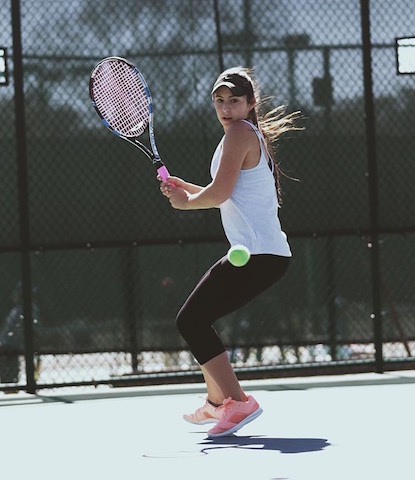 Sitting at eighth in the state and 197th in the country, Brenna Reilly, a local tennis star who doubles as a senior at Lambert, has been working for ten years to obtain these rankings. At the age of 11, she played in her first tournament and won, thus sparking her passion for tennis. This passion has led her to be extremely successful in the sport, guaranteeing her a future in tennis.
Her most recent success has been that of her commitment. After many Division I colleges, such as UNC Wilmington, UT Chattanooga, Western Carolina and the University of Rhode Island offered her scholarships, Reilly finally committed with Kennesaw State University. The commitment process, according to Reilly, is very tedious and drawn out. With a plethora of colleges showing interest in her, Reilly was torn when it came to deciding where she would want to spend the next four years of her life. She received emails and phone calls from college coaches in all three divisions. Reilly has a profile on tennisrecruiting.com that shows that approximately 150 coaches visited her page in the last six months. The decision was tough, but Reilly said that, "in the end, Kennesaw State was the right choice for [her], and [she] can't wait to spend the next four years there!"
With practice taking up 14-16 hours of her week, Reilly has hardly had time to be bothered with school. Since freshman year, Reilly has left school after fourth period to go practice tennis; most high schoolers are not allowed to leave early until at least their junior year. Leaving early has allowed Reilly the chance to practice earlier in the day so that she has time to study later in the evening. Her schedule also consists of around two tournaments per month; these tournaments also prohibit her from studying at times. However, she often finds time to study between tournaments, either on the car ride to the tournament or in the hotel. These tournaments often pull her out of school during the week. She says, "Missing school is the hardest part because [she] tends to miss notes and tests." Even with all of these challenges and setbacks in her school-life, Reilly has managed to obtain a GPA of 3.98, thus successfully balancing both school and tennis.
Reilly has experienced the ups and downs of living the life of an athlete. One of her proudest moments was when she was competing against an athlete that vastly out ranked her. They had played two sets with Reilly winning one and her opponent winning the other. The third set was to break the tie. Reilly was down 9-1, and a player needs ten match points to win. Reilly was stressed, but she did not give up. She came back and won the match 11-9, winning ten match points in a row.
After ten years of all her hard work and success, one would assume that Reilly would continue to play tennis for the rest of her life, but that is not the case. Once her college days are over, she plans on retiring from her tennis career and focusing on a new chapter in her life.
Leave a Comment
Donate to The Lambert Post
Your donation will help support The Lambert Post, Lambert High Schools student-run newspaper! Your contribution will allow us to purchase equipment and cover website hosting costs.