Lady Longhorns: The World of Cheer
Competitive cheerleading is unique compared to most sports. Unlike basketball or football, cheerleading requires hours of practice and conscious perfectionism to prepare for one opportunity on the mat.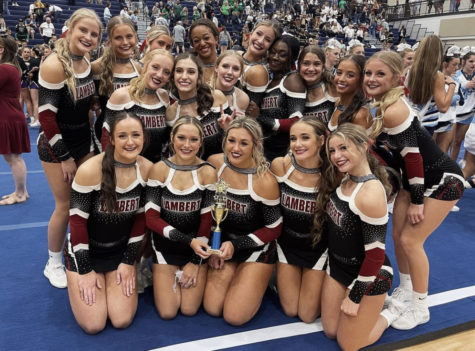 A common critique of these "one-shot" sports is that athletes endure a gruesome physical battle only to have one, three-minute opportunity to showcase the hours dedicated to conditioning, throwing, catching, flipping and rehearsing routines.

While in baseball one error typically has an insignificant impact on the nine-inning game, in cheerleading one deduction can be the difference between winning first and not making the podium at all. Due to this framework, cheerleading has a term for executing a routine with no deductions – "hitting." 
Evidently, cheerleading is curated on the illusion of perfectionism. Cheerleaders are trained to achieve a routine with zero deductions, but even then, this may not be the team's definition of perfection. The mindset of continuous improvement combined with constantly changing standards results in most cheerleaders inevitably experiencing dissatisfaction with their performance. 
"Cheerleading requires a large amount of mental toughness in order for the athletes to push their bodies to the physical demands of the sport," Sports Psychology explains. "Oftentimes, the largest obstacle faced by cheerleaders are fear and anxiety."
Lambert High School's six-time state champion and five-time region champion Varsity Competitive Cheer team officially began its season on September 17, 2022. 
Varsity Cheer Team 22-23 by Taylor Petrofski 
Lambert placed second competing at Walton High School against schools from across the state.
"We had one deduction for a stunt fall," Junior Varsity Cheerleader Ava Nies said. "We just didn't hit."
Lambert finished their first competition with a score of 97. This year, The Georgia High School Association (GHSA) determined a 108 as a perfect score. 
"It was a good first competition," Junior Varsity Cheerleader Julia Szlek explained. "It was a challenge mentally, which helped prepare our team for the rest of the season."
This past weekend, Lambert competed at the Buford Fall Invitational. They finished third with a score of 103. 
"It was crazy," Nies said. "We hit a really good routine. We all walked off the mat feeling really good about our performance."
The judging of cheer is subjective. Therefore, there are a myriad of factors – the table of judges, order of performance, appearance, etc. – that can influence what score a team receives and subsequently where they place. 
"We were a little disappointed with our placement at this competition, but different judges see different things, so it's important to control what you can," Szlek said. 
Despite Lambert's statistical results at Buford, they were overcome with positive feedback from the audience and their social media following.
"We had parents and coaches from other teams telling us how well we did," Nies explained. 
Lambert Cheerleading will compete again this Saturday, October 8 at Dawson County High School. 
"We're putting in the work this week," Szlek said. "We want to bring home a win."
In a sport as mentally challenging as cheerleading, an athlete's mindset is imperative. This weekend, the team is arriving with an optimistic attitude, hoping to continue the pattern of increasing their score.
"It's all how you look at things," Nies explained. "Don't be scared to fall; be excited to hit."
For more information about Lambert's competitive cheer team, visit their Instagram. Tickets are sold for $10 (cash only) Saturday at the door.
Donate to The Lambert Post
Your donation will help support The Lambert Post, Lambert High Schools student-run newspaper! Your contribution will allow us to purchase equipment and cover website hosting costs.