Lambert Swim & Dive: Splashing Into Another Successful Season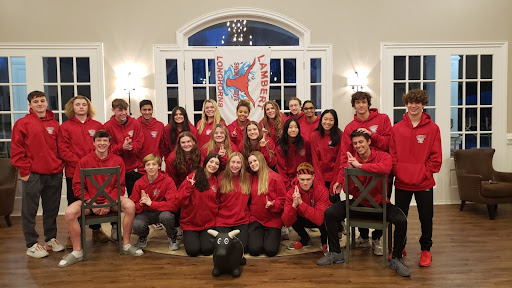 Lambert's Swim and Dive team faces tough competition wherever they compete. To combat this challenge, the team dedicates time and hard work to succeed against other 7A high schools. Their diligence has paid off, though, as the swim and dive team has collected five state championships in past years. The team hopes to continue their streak this year through continued perseverance and Longhorn Pride. 
Although they have seen immense success, there has always been a lack of support from the Lambert community. Coach Langley, the head coach for swim and dive, explained how support is something that they are especially looking for.
"We have nobody coming up [except] maybe a handful of parents," Coach Langley explained. "Nobody comes to cheer us on even for the county [meet]."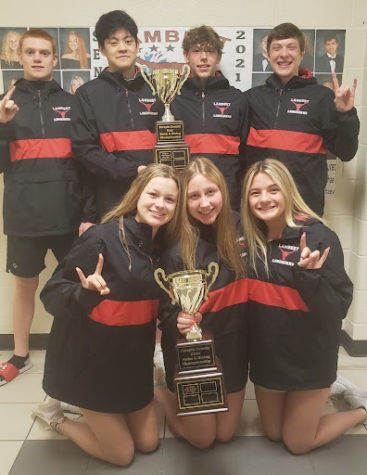 For people looking for ways to support Lambert Swim and Dive, attending their meets is the first and easiest step.
"Saying 'hi' to people, like greeting people in the hallways… [saying] 'congrats' or something about [a] good race, stuff like that [is supportive]," Co-Head Captain of swim and dive Noah Saylor said.
For someone who is considering diving for Lambert's Swim and Dive team, the first step is to join the Atlanta Dive Association.
"We need divers," Coach Langley said. "That's what we're lacking."
Being part of Lambert Swim and Dive means being involved in a tight-knit community.
"It is like a family," Saylor explained. "We're very welcoming."
In addition, there are a multitude of fun events outside of practice and meets, such as pasta dinners and other team bonding initiatives. Every Friday morning, the team has a 45-minute yoga session, which is great for improving athletes' flexibility and mindfulness.
Based on Lambert's past record and continued hard work, the upcoming season should be successful. With over 100 athletes in the swim and dive community, they hope to make the most out of their season and receive support from the rest of Lambert.
If you're interested in joining Lambert's swim and dive team or are looking to support the athletes at their meets, view their website for more information.
Donate to The Lambert Post
Your donation will help support The Lambert Post, Lambert High Schools student-run newspaper! Your contribution will allow us to purchase equipment and cover website hosting costs.