Midnights: Taylor Swift's Newest Album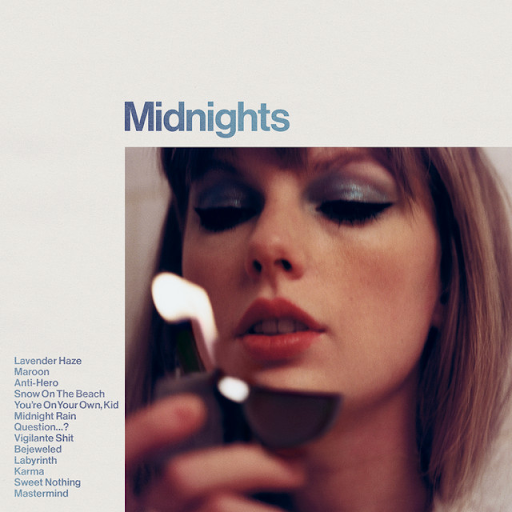 On October 21st, Taylor Swift released her new album titled "Midnights." Fans around the world counted down to this moment. Tears were shed on the screen after many played the songs on their devices. 
Like her other two previous albums, Taylor's most recent album embodied a more "mellow mood" as Mrs. Tillis describes it. 
"It's more mellow [and] calm, which is why I think a lot of people don't like it, because they're expecting something different," Tillis said. "But I actually prefer the past three albums. I really like them."
The inspiration behind this album was focused on the sleepless nights that Taylor experienced, and the stories that each of those told. The songs symbolize the range of late hours one can face, from soothing sleep with sweet dreams, to restless nights with tossing and turning. 
As an English teacher, the concept of each song telling a story excited Mrs. Tillis. 
"A lot of them are narrative based, so they tell a story," Tillis mentioned. "And I like being an English teacher. I like being able to figure out what the stories are being told in each song." 
While the original album consists of 13 songs, to represent 13 sleepless nights, her 3 a.m. version contains an additional 7 songs she wrote along her journey of producing the album.  
The Tracklist is listed below, with each song representing a restless night:
 Lavender Haze

Maroon

Anti-Hero

Snow On The Beach

You're On Your Own, Kid

Midnight Rain

Question…?

Vigilante Shit

Bejeweled

Labyrinth

Karma

Sweet Nothing

Mastermind

The Great War

Bigger Than The Whole Sky

Paris

High Infidelity

Glitch

Would've, Could've, Should've

Dear Reader
"I think my favorite song is probably 'Snow On The Beach,'" Mrs Tillis commented. "Because I grew up in Massachusetts, and in the wintertime my family would take us to the beach. So I have a core memory of being on the beach in the wintertime… So that song really spoke to me."
Taylor's albums pulled on the heartstrings of many, and her works have inspired a number of fans. Everyone, even non-fans, are in for a treat by giving the album a listen.
Donate to The Lambert Post
Your donation will help support The Lambert Post, Lambert High Schools student-run newspaper! Your contribution will allow us to purchase equipment and cover website hosting costs.