Take a Look in the Mirror
Body Image. The subjective picture or mental image of one's own body. Body image is what you see when you look in the mirror, the person who stares back at you. Often, this person, it's not you. The person in the mirror is a morphed version of you; it is a composite of all your insecurities.
One of the major outside influences on somebody's body image is the media. The "ideal body" is constantly changing, However, Each "ideal body" is hammered into the minds of society. It's what we all aspire to look like. Although, it's often unrealistic and unachievable.
1920's- Women would try and appear as boyish as possible, with flat bodies and little to no waists.
1930's-1950- Woman aimed for curvy bodies and small waists.
1960's- Tall and slender body types were desired.
1980's- The ideal body was slim, tall, and athletic. Women aimed to be strong and lean.
1990's- Women wanted to be thin, pale, and withdrawn. This was the skinniest "ideal body" so far.
2000's-modern day- Woman wanted to be skinny, but with large features (such as breasts and butts) and flat stomachs. Plastic surgery became a normal occurrence.
The statements below came from various people, of differing genders and ages. Each person had their own ideas and perceptions of body image. However, one idea seemed to be shared among them, body image issues are prevalent in most humans.
Lucy- I think that most teenagers feel insecure about how they looks, to at least some degree. Though, people tend to believe that purely girls struggle with body image. That's not true. The media presents "body standard" for EVERY single person. My body image would be so much better if there was a more diverse body representation in the media. Attention needs to be brought on how important it is for people to love themselves. Nobody gets to decide whether or not you're beautiful, you're beautiful no matter what. When I'm confident in my body I'm a much happier person!
Michael- I think body image affects everybody, but some have it worse than others, mostly girls. In regards to girls, don't look down upon yourself because you don't have ideal features, overall just learn to be who you are. I love myself. I am proud of who I am and everything that implies. You should never feel ashamed of your body, you just have to embrace it.
Martha- I think it's part of the human heart to struggle with body image issues. I think it's easiest for us to be our own critic. I think both genders suffer with it, but it's more pronounce in women. Society and culture has its own definition of beauty that is completely impossible for any female to live up to in full confidence. When I struggle with this, I remember that God's definition of beauty is different from mine or the worlds, and it helps me. The world has one definition for the ideal body, ridiculously unattainable.
Lindsey- Everybody struggles with body image issues at some point in their life. Personally, I stopped struggling with body image problems when I realized I didn't need to be 00 to be loved. Yes, people are quick to judge somebody who looks a little chunkier, but if somebody won't be my friend because of that, than why would I care about their opinion? I cope with my insecurities by doing things that make me feel confident as well as mentally talking myself out of my insecurities. I try and keep my insecurities away from my personality and who I am. Overall, I love myself and my body.
Jessica- I think that the average person has body image issues. I did as well, but I was able to learn to accept and love my unique body. I LOVE myself and my body! I love how unique and different it is. I don't even mind my cellulite and curves. I very seldom feel ashamed of my body. However, people have insulted the way I look before. It made me dislike my body and feel self-conscience. I think most people think that skinny is best. I think that healthy curves and muscle is bed. To cope with insecurities I remind myself that my true friends will love me at my best and worst. Perceptive is everything. We don't even realize how negatively we talk about their bodies. Society has trained us to think that skinny is best, but skinny is often very, very unhealthy.
*all names have been changed so that participants remain anonymous*
The photo essay below represents student answers to one question: "In one word, how would you describe the feelings you have towards your self or your body?"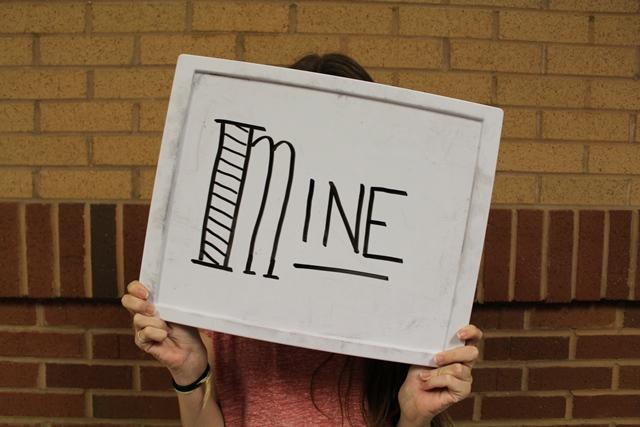 View Comments (3)
Donate to The Lambert Post
Your donation will help support The Lambert Post, Lambert High Schools student-run newspaper! Your contribution will allow us to purchase equipment and cover website hosting costs.