We Can't Keep Up: Aminah and Salima Jabbie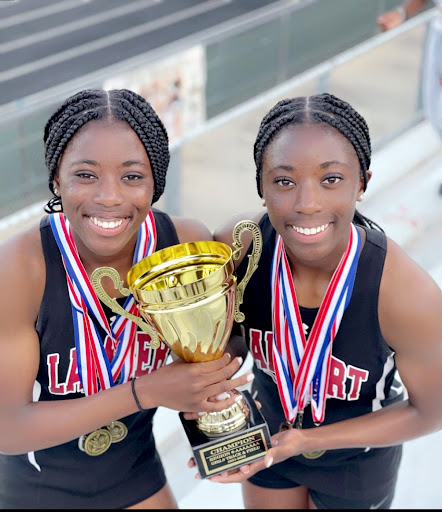 Lambert's track season doesn't start until January, but that doesn't keep any attention away from the team's leading sprinters. Juniors Aminah and Salima Jabbie are power twins at Lambert. They run for the varsity track team with accomplishments that are off the charts. 
Last year, they both made it to the state meet for multiple events, and their race times exceeded expectations. Salima's personal record (PR) for the 100 meter dash is 11.95 seconds  and Aminah's is 12.06. These times make them prime prospects for college level track.
A major success last season was their performance in the 4×100 and 4×400 meter relay. They finished third overall at state in the 4×100. Their tight bond off the track with fellow relay partners was what they felt helped them the most.
"We were really close with each other," Aminah said, referring to relay teammates Sade Ezekiel, Susie Harris and Caroline Harris.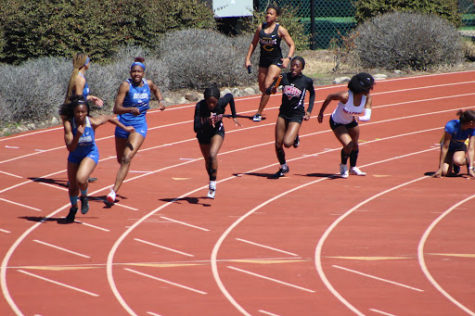 Their chemistry was beneficial for their handoffs during the race making for a smooth exchange; they each knew each other well enough to adjust to the other's approach.
"How are you gonna make a handoff if you don't trust your relay partner?" Salima pointed out.
 The 4×400 is arguably the hardest sprint event in track as it requires both speed and endurance, as well as efficient communication with the rest of the relay team. It wasn't an easy task but their best effort was more than enough, finishing 4th at state.
"We all pushed through at the end and it came out to be successful," Salima explained. 
Races can be incredibly scary, especially because track is an individual sport. It's often more overwhelming to not have teammates as a safety net and knowing that the outcome is solely based on your performance. Both twins use essential oil that calms their anxiety, which they rub before races. They also listen to music to calm themselves down and to remind themselves that it's just a small amount of time.
"It's 12 seconds, 11 seconds, whatever the case may be…just run your best and finish," Aminah tells herself before a sprint.
Additionally, they find comfort in each other during nerve racking circumstances.
"It's always nice to have someone else to run with," Salima said. "It feels great cause like you know when you look to the side.. [that] she's right there." 
Being a twin is already hard in terms of inescapable comparison, but both being involved in track with exceptional talent makes for even higher competition and pressure between the two. In the case of the Jabbie twins, it's a motivator, as they explained.
"We are each other's competition, which makes us be the best we possibly can be," Aminah explained. "[Salima] is really fast..she knows what she's doing, so it pushes me on the track."
 They each have their own personal strengths that help  the other to improve their performance. 
"[Aminah's] positivity, it carries me along…I feed off of her energy," Salima said. "How she finishes is really strong." 
In terms of comparison and grouping, they don't let it get to them. It's something they say they are used to.
"We know, like, what our strengths and weaknesses are," Salima said. "I think we're completely different." 
In preparation for the upcoming season, they each have set goals. They both want to set new PRs, make it back to the state level and get recruited by colleges. 
 "I want to break 12," Aminah explained, referring to her personal record. 
Both twins have dreams of playing at the Division 1 level and then on to the Olympics. They are working towards this consistently and even through the off season.
"Running in the Olympics, under the lights, having my family and friends cheer me on, I want to go big; that's my dream," Aminah emphasized.
It is just the beginning for these two, and the Lambert community can expect to see them perform at the highest level.
Donate to The Lambert Post
Your donation will help support The Lambert Post, Lambert High Schools student-run newspaper! Your contribution will allow us to purchase equipment and cover website hosting costs.