Last week in Lambert sports: Week 3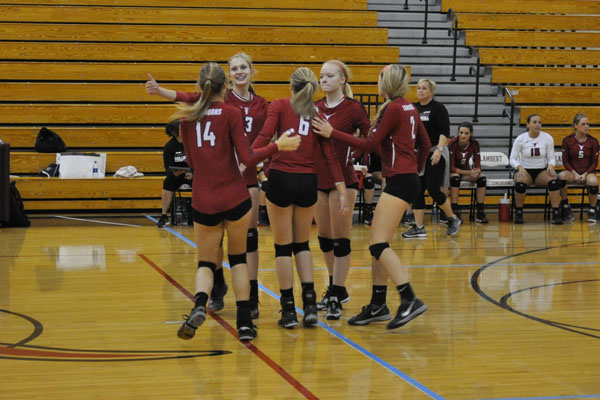 Football season started and the ladies continued their strong season. There were a few bumps during the week for each one of the sports, but two things were evident: The competition was strong and there was improvement.
    Softball: Softball had two games during the week. They had one game against Milton and one against the big rival, South Forsyth. They split both games. Milton was the first team they played out of the two and they managed to shut them out with a score 7-0. Kassidy Krupit did great in both hitting and pitching. She got one RBI and one HR. She had a 0 ERA and 13 strikeouts. The next game against South Forsyth was a loss, 4-3. The game would start off with South scoring the first two runs in the first two innings. Lambert was able to rally and score three times in the fourth inning, sadly, South Forsyth scored two go-ahead runs in the sixth inning.
    Volleyball: Volleyball has played plethora of games during the week. They lost the first game of the week to Mill Creek 3-0. The Longhorns played a doubleheader the next day and won both matches. They struggled on Saturday as they played four games and the went 1-3. They lost the first three games of the day, but they were able to finish strong and won the last game against Dunwoody. They hope to bounce back today against St. Francis
    Football: The season opener was against Mountain View this previous Friday. They sadly lost the game 31-13. The Longhorns struggled early on as they could not capitalize on easy opportunities. They started off with a nice kickoff return but then they blew it. The defense then gave up a big play that would eventually lead to a passing touchdown for Mountain View. The Longhorns would get the ball back but they were forced to punt it away. Mountain View then scored on a rushing touchdown and went up 14-0 at the end of the first quarter. Lambert was able to answer with a field goal and cut the deficit to 11. Mountain View had a response of their own as they had another connection between QB  Matthew Edwards and WR Thomas Stewart. At the end of the first half, the score was 21-3.
    Lambert came out in the second half and scored a touchdown with the connection of Bobby Gabriel and Jakob Unhoch. The score was 21-10 after the PAT. The defense needed a stop, but instead they gave up another big play which would eventually lead to a touchdown by Mountain View. Both teams would score field goals and the final score was 31-13. Big plays by Mountain View and turnovers in the redzone doomed Lambert this week. They hope to grow and learn from their mistakes as they play Collins Hill this Friday.