A European Christmas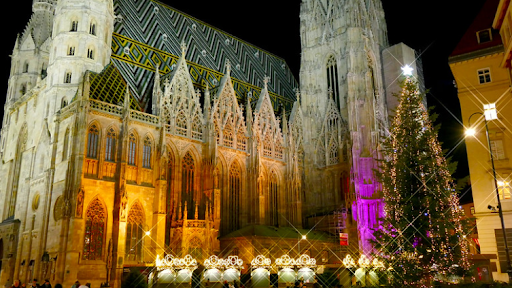 Many of us are familiar with typical American Christmas traditions. Waiting up to hear the clippity clop of Rudolph on the house tops. Santa comes down the chimney, gobbling up milk and cookies before stuffing stockings, leaving presents under the tree only to fly up the chimney from whence he came. Outside of the U.S bubble, traditions vary from country to country. This article will be highlighting Christmas traditions across Europe. 
England
Christmas Carols are deeply ingrained in English tradition. Dating back to Shakespeare's day, people young and old go house-to-house singing carols and attending Christmas church service specials catered towards joviall songs. Children's schools will hold small concerts where children will sing Christmas carols. Christmas markets selling gifts, treats, and traditional mulled wine are common in villages across the country. Opposed to buying a tree from a lot, country folk go out into the woods to find a tree to chop down. Having a living tree in the home goes back to pagan times. Housing a living plant during the winter represented the preservation of everlasting life. Families gather together to trim the tree and bake Christmas goodies like mince pie. Mince pie can be traced back to King Henry VIII's rule. Spiced fruits, spices and fresh meat was far too expensive for peasants to afford so only the rich could afford this delicacy. According to English tradition, 12 pies should be eaten during the 12 days of Christmas to ensure good luck for each month of the coming year. Just like how in the states, children gather round on Santa's lap, or "Father Christmas" as he's called in this region of the world. Instead of cookies and milk left out for Father Christmas, the English leave out wine and mince pie along with some carrots for his reindeer of course.
Norway
In Norway, Christmas is celebrated with a unique intimacy only found in this region of the world. Small villages nestled in between mountains start their holiday celebration on December 13th, St. Lucia day. This holiday is very important across Nordic Europe. Candle bearing Santa Lucias (young girls ages 12 to 20) "bring light" to the darkest day of the year, promising the return of summer. Pressions are led by a Young Lucia wearing a crown of lights. Communities gather in chapels to hear choirs made up of young and old singing traditional carols. It is common for young children to make St. Lucia Day bread to give out to loved ones.  Candles adorn graveyards as family members remember lost loved ones. Instead of waiting on a plump man to deliver gifts, Norwegian children leave out a bowl of porridge for the Julenisse, mischievous Christmas elves that reside in the forest. They arrive with an entourage of pigs, horses and moose to deliver gifts. In Nordic Europe, white lights adorn all the houses. Evergreen trees are also brought inside and trimmed with lights and decorations. Mistletoe is also commonly found in homes, associated with the Viking goddess of love. 
Switzerland 
Searching for the perfect christmas tree in nearby forests still exists in Swiss tradition. Families venture out into the evergreen forests hunting for just the right spruce. After the said tree is located, the men of the family saw it down and take it back home. Rather than opening advent calendars, houses decorate a window for each day of advent. Children count down the days until they can receive their gifts from the Swiss version of Santa Clause, "Samichlaus" and his sidekick "Schmultiz". Samichlaus visits the village children, checking his list to see if they've been doing their chores. He might ask the children to sing a song or recite a poem resulting in a treat after their performance. 
Germany 
Christmas in Germany is nothing short of magical, something you'd see in a christmas card. Many western Christmas traditions you may be familiar with originate from here. German Christmas markets, or Christkindlmarkts, pop up in nearly every town square across the region. Markets are filled with festive scenes, smells, and gifts. Germany has long been the center of toy making in Europe and here is no different. Handmade stuffed animals, nut crackers and Bavarian dolls are featured in market tents. Gingerbread, spiced wine and sausages are common foods served at these markets along with beer. The Christmas tradition of bringing in an evergreen tree to decorate with ornaments and candles originated in Germany so naturally, each German household has a brightly decorated tree. Instead of Santa Claus delivering gifts on the 25th, baby Jesus, known as Christkind in German, delivers gifts on the 24th of December. However, it was difficult for young children to imagine a baby in a manger delivering presents. The Christkind soon became represented by a young female angel. She's often present at Christkindlmarkts listening to children's holiday wishes and letting them touch her wings, but only if they're gentle. 
Austria 
Over 200 years ago, the famed christmas song "Silent Night" was first sung in Austria. Similar to other European countries, the Christmas season starts four Sundays before Christmas. Families buy or make Adventkranz (advent wreaths) out of Fir or spruce branches. The wreath is adorned with four candles that are lit every Sunday leading up to December 24th. The 5th of December is Krampus Day. The horned devil has bulging eyes, a long red tongue, dark coarse fur and cowbells around his neck. He runs up and down the alpine streets, scaring children into being good. The following day is the feast of St. Nicholas, the saint of children. St. Nicholas is heavily celebrated in this region of the world, his feast is a very big deal. In his flowing robe, St. Nicholas carried around a book with children's good and bad deeds written in them. He is often accompanied by Krampus to carry off naughty kids while St.Nicholas rewards good children with sweets and apples. Christkindlmarkts are also a keystone tradition in Austria filled with the same goodness as German Markets. On december 24th, Austrian children open gifts from St.  Nicholas. The following days are when families and friends get together to share Christmas cheer by cooking and feasting with each other. 
Italy 
Millions of christians flock to Vatican City, the capital of catholicism, in order to celebrate christmas and attend the Pope's christmas mass. Streets are lined with manger scenes, known as "Presepi". The first manger scene was created by St. Francis of Assisi in 1223 to teach people the story of the first christmas. The holiday season in Europe stretches well over a month to fit in the multitude of holy days during december. Advent starts four Sundays before Christmas Eve. The Feast of St. Nicholas is celebrated on December 6th, and Saint Lucia says it is on the 13th. The twelve days of Christmas start on the 25th and end on January 6th. January 6th is called Epiphany, the day the three kings deliver gifts. In Italy "La Befana", a christmas witch, flies over rooftops filling childrens stockings with candy or coal. Communities gather in churches to share a decadent meal and multiple dishes brought by each attending member. 
Christmas may be celebrated throughout the world but each country has their own traditions unique to the region. No matter how you celebrate Christmas this year, I hope it's a merry one!
Leave a Comment
Donate to The Lambert Post
Your donation will help support The Lambert Post, Lambert High Schools student-run newspaper! Your contribution will allow us to purchase equipment and cover website hosting costs.