A Longhorn Journey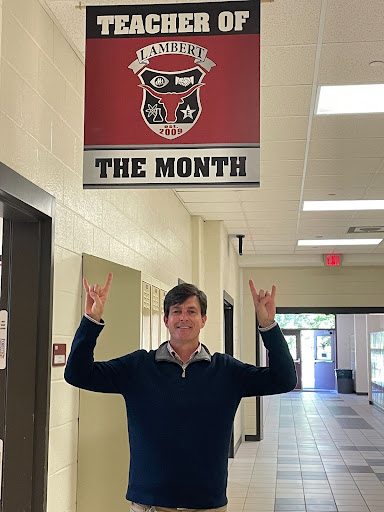 Mr. Wilson is an AP World History teacher that strives to connect history to modern times. He is one of the few teachers that has been at Lambert since the very beginning, but it almost didn't turn out that way.
In the very beginning, Dr. Davison was the principal of South Forsyth High School before he accepted his position at Lambert. He got a year off to find his staff for the new school and Mr. Wilson was one of the first teachers he recruited.
Davison offered Mr. Wilson two different options: he could either take a permanent position at South Forsyth or work there for one year and then transfer to Lambert when it opened. Wilson decided to work at South for one year and then work at Lambert, but there were still difficulties ahead.
Lambert was being built during the 2008 housing stock market crash. These unprecedented times only allowed Dr. Davison to take two teachers from outside of the county. At the time, Wilson, unfortunately, lived in Gwinnett. 
Wilson moved and was able to work one year at South with prospects of working at Lambert in the future. 
One thing that has changed over the years is the use of technology. There have been so many different developments that help the classroom in tremendous ways.
In the beginning, Forsyth county used projectors that came out of the ceiling and teachers were able to access them through their computers.  Now, the technology has developed into having smart boards in classrooms, along with a teacher laptop. This allowed teachers to teach more efficiently in their classrooms.
"Technology has really revolutionized and changed the classroom," Mr. Wilson stated.
Students also saw a change in the technology used at school: all of the classrooms had Chromebooks in them and many lessons were being taught fully online. 
After being at Lambert for so long, Mr. Wilson noticed some differences between when Lambert first started and where it is today. Most specifically, on the size of the student body and how it's increased since Lambert opened.
In the first two or three years at Lambert, there were only 1,200 students attending. This year, there are upwards of 3,000 students attending the school. 
Due to covid, some of the students were able to experience what a small student body was like. The hallways were less crowded and the school felt emptier. Wilson compares the number of students in the building last year to the number of students in their first few years as a school.
"For anybody who was here in school last year you know when we were at like 1500, that was like Lambert when we opened, we had 1200 students." He continued  "and then Lambert this year with us back at 3000, that's more of reality."
Mr. Wilson has been able to see the students grow over the years as well. They are very successful academically, athletically, and extracurricular. This has brought a great name to Lambert, but along with the success also comes the work for it.
"The bad thing is that you're constantly competing, maybe not so much with people beyond Lambert, but you will always be competing with people inside Lambert," Wilson commented. 
Students are constantly competing with each other and even when they achieve success there is still more work to be done. The amount of success that Lambert has achieved is greatly due to the hard work of these students. 
Even though the competition at Lambert is really fierce, the teachers do want their students to succeed. Mr. Wilson is a great teacher who uses his experience and knowledge to connect with his students in hopes that they will succeed and flourish in successive years.
Leave a Comment
Donate to The Lambert Post
Your donation will support the student journalists of Lambert High School. Your contribution will allow us to purchase equipment and cover our annual website hosting costs.