An End of An Era: Mr. Jakaitis Says Goodbye to Lambert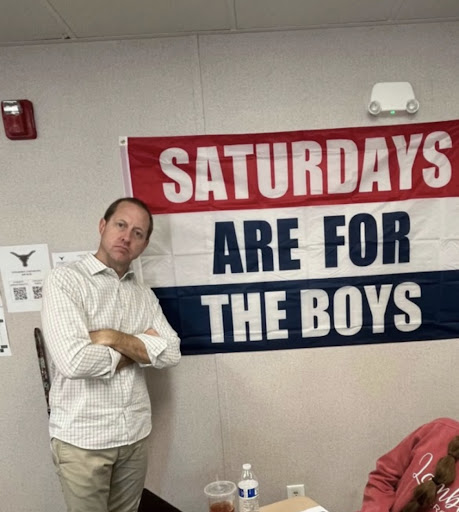 Mr. Jakaitis will bid farewell to his fourteen-year tenure at Lambert this spring as one of the original teachers to join the school when it opened its doors in 2009.
 "When I first came here, we were brand new," Mr. Jakaitis explained. "The school had just opened up. There was a lot of excitement." 
He has fostered a strong bond between students and faculty members, making it bittersweet to see him go. His initial motivation for becoming a teacher stemmed from his love for basketball and his desire to coach.
 "I wanted to coach basketball, so I had to become a teacher," he explained. "I've loved basketball since I was little." 
His passion for coaching eventually led him to become one of the most adored teachers at Lambert primarily teaching psychology- although it wasn't his original plan. 
"I didn't initially want to teach psychology, but I didn't have any objections either," he said. "They asked me to teach it, and now it's been about ten years." 
Jakaitis's easygoing nature and go-with-the-flow attitude have endeared him to many. He is loved by numerous students for his fun and laid-back demeanor, yet he strives to maintain an authentic connection with his students.
"The most important thing I've learned as a teacher is to be yourself and not try to be someone else," he exclaimed. 
His close relationship with his students has led to humorous moments, such as the "Saturdays are for the boys" flag displayed in his classroom – a gift from his students. 
"It always brings a smile to my face," he remarked about the flag. 
He has always been a teacher who appreciates jokes and fosters a fun environment. It is essential to him that his students engage and have an enjoyable learning experience.
 "I love it when my students interact with each other," he said. "They can talk about anything, but I hope they support one another. Collaboration is important." 
Throughout his career, he has amassed countless joyful memories that he will carry with him. One of his favorite moments was winning the golf state championship in 2015. However, he also cherishes the messy and unexpected aspects of being a teacher. 
"The most memorable moments are when things don't go as planned," he shared. 
Being at Lambert for so many years, he has witnessed significant changes in the school and its surrounding area, observing its growth and transformation in various ways. He himself is also evolving and embracing change, expressing an interest in teaching government at his new school. 
"I think it's a fascinating subject," he said.
Proximity to home was the primary factor in Mr. Jakaitis's decision to change schools, yet he will always hold the Longhorn way close to his heart. 
"I'm going to miss the friends I've made and the feeling of being somewhere that feels like home," he said.
The Lambert Community will cherish all that Mr. Jakaitis has brought to the school and wishes him the best as he takes on a new path.
Donate to The Lambert Post
Your donation will help support The Lambert Post, Lambert High Schools student-run newspaper! Your contribution will allow us to purchase equipment and cover website hosting costs.